JUMO pH and ORP electrode connection cable with rotatable N-line socket and open end (coaxial cable)
Product number: pH-Redox Kabel N/0.1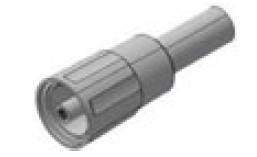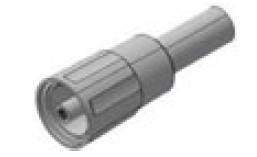 €0.00*
Please log in to receive your conditions.
Available in 5 days, delivery time 1-2 days
Product number:
pH-Redox Kabel N/0.1
Our comment:
The measurement between an electrochemical sensor and the transmitter/indicator/controller should be as short as possible. Typical cable lengths are 5 to 10m with high functional reliability. If, in exceptional cases, longer cable lengths have to be selected, the technical documentation of the sensors and measuring instruments must be observed. The cable between sensor and evaluation unit must be laid directly and without interruption (e.g. terminal strips) or cable extensions.
Product information "JUMO pH and ORP electrode connection cable with rotatable N-line socket and open end (coaxial cable) "
When using electrochemical sensors for liquid analysis, special connection cables and connectors are used. JUMO offers a selection of proven designs. These are available either as ready-made connection cables, as loose rolls or as individual plugs/sockets for self-assembly.
pH and redox measurement:
Coaxial cables with a special construction are used for pH and redox measurements. For these measurements, low-level DC voltages are generated by the sensor and transmitted to the evaluation device. These measurements, some of which have a very high resistance (potentiostatic measuring principle, internal resistances up to several gigaohms), are sensitive to electrical interference and irradiation. Even a movement of the cable in unfavourable conditions can produce measurement value distortions. An additional insulation layer of the JUMO coaxial cable increases the insulation resistance of the cable and thus enables a safe connection of the sensor to the transmitter. Common coaxial cables from the antenna and computer sector are not suitable and can damage the sensors. This can lead to immediate failure of the sensor as well as to a reduced service life. For multiple sensors e.g. with integrated temperature sensors, coaxial cables with single wires are available (e.g. Variopin (VP)
Special features
Pre-assembled connection cables in high quality
Highest possible protection class with factory assembly
Wide range of special plugs/sockets
Customised versions on request