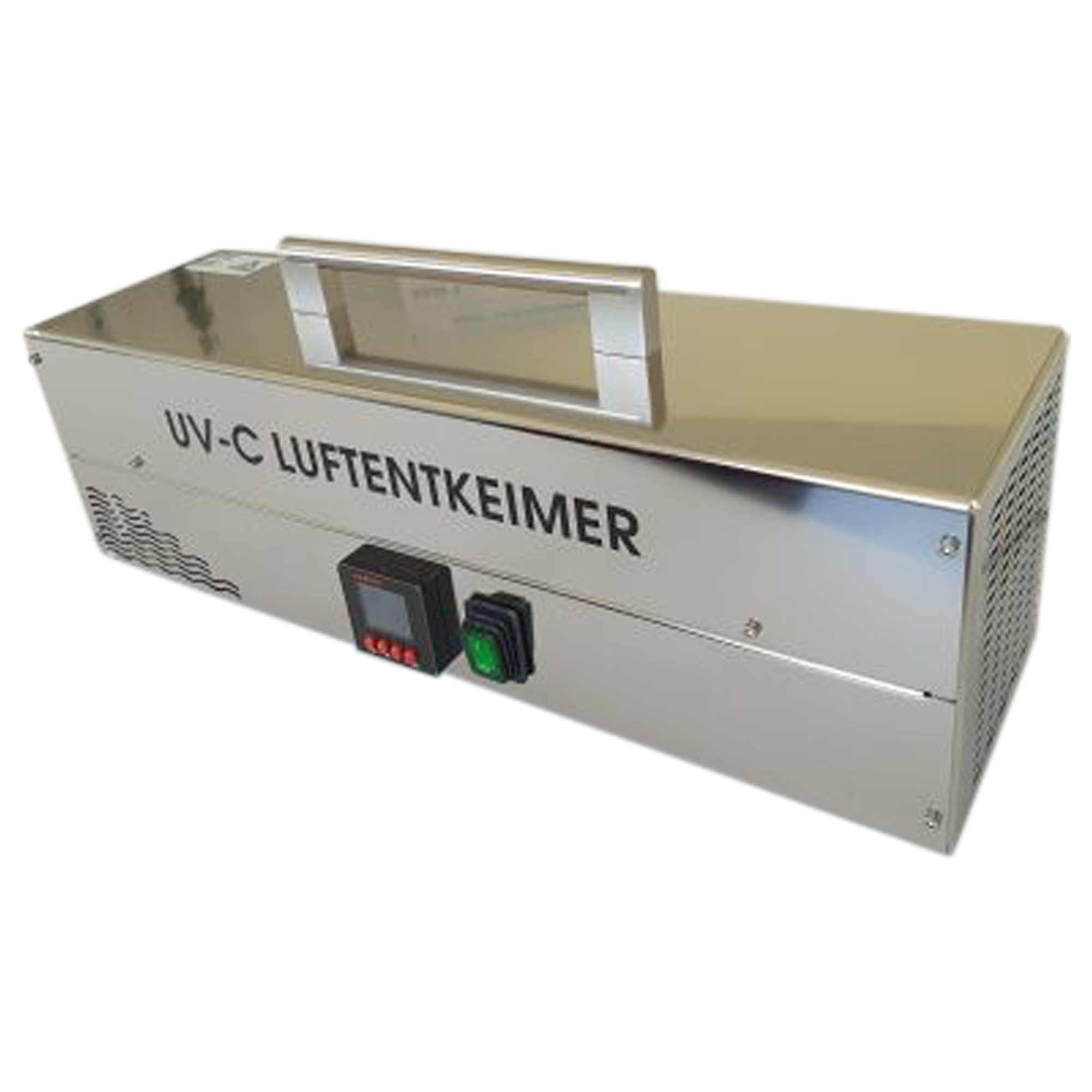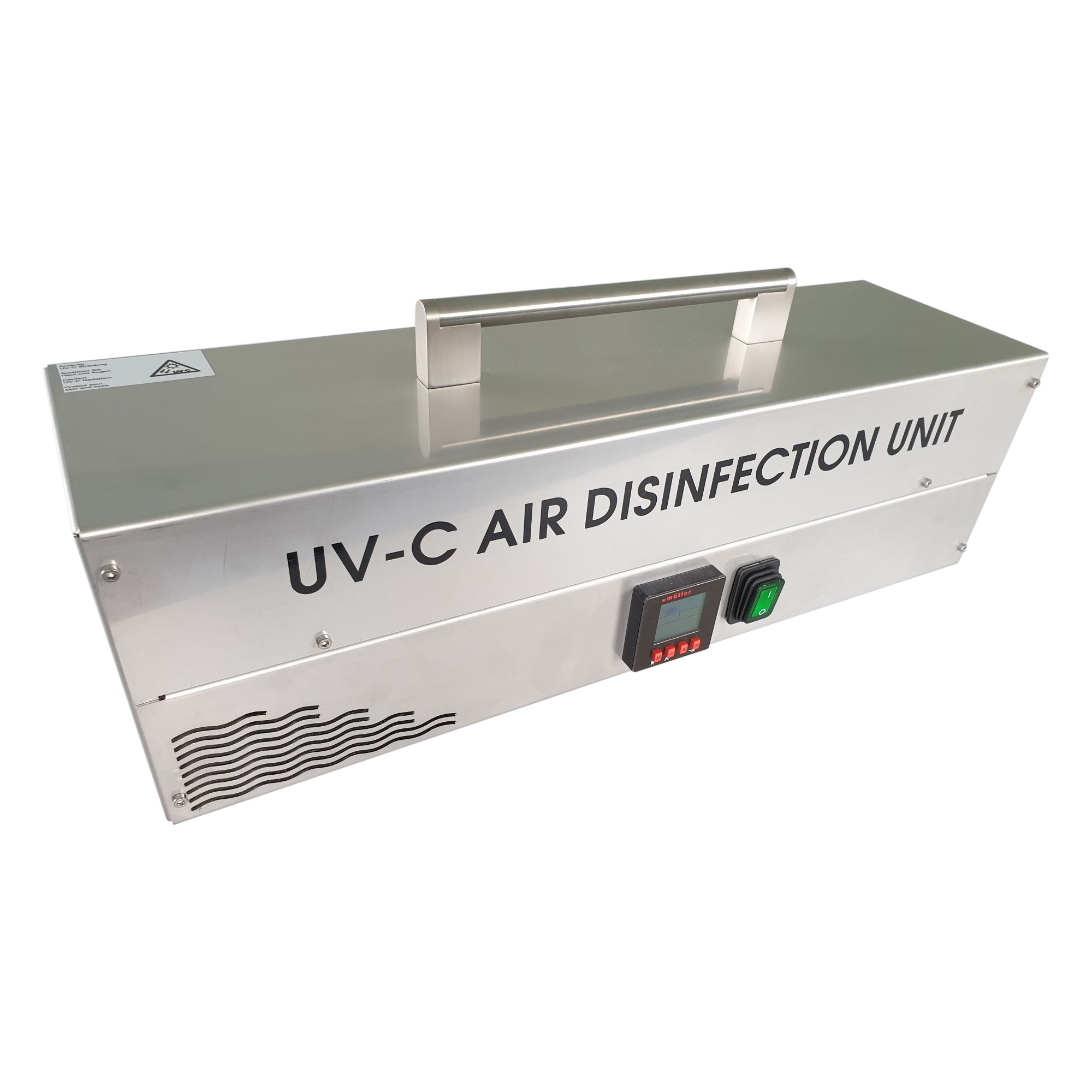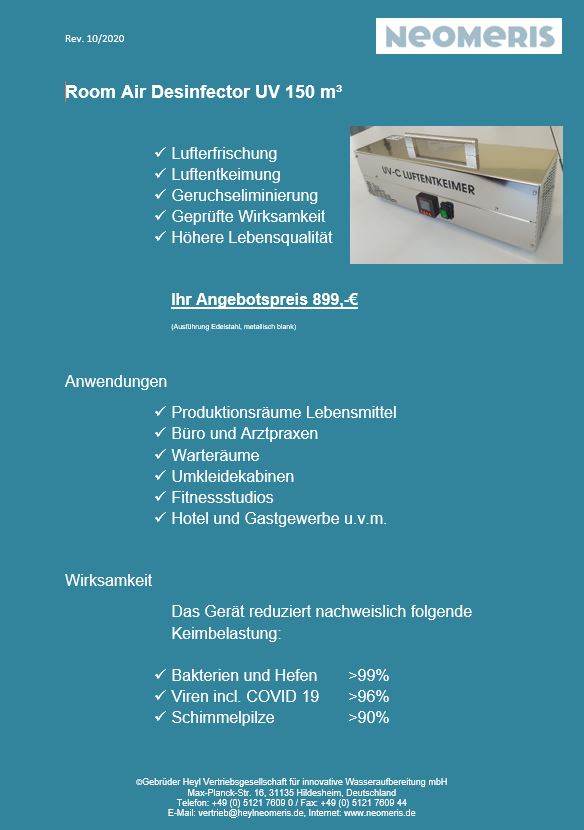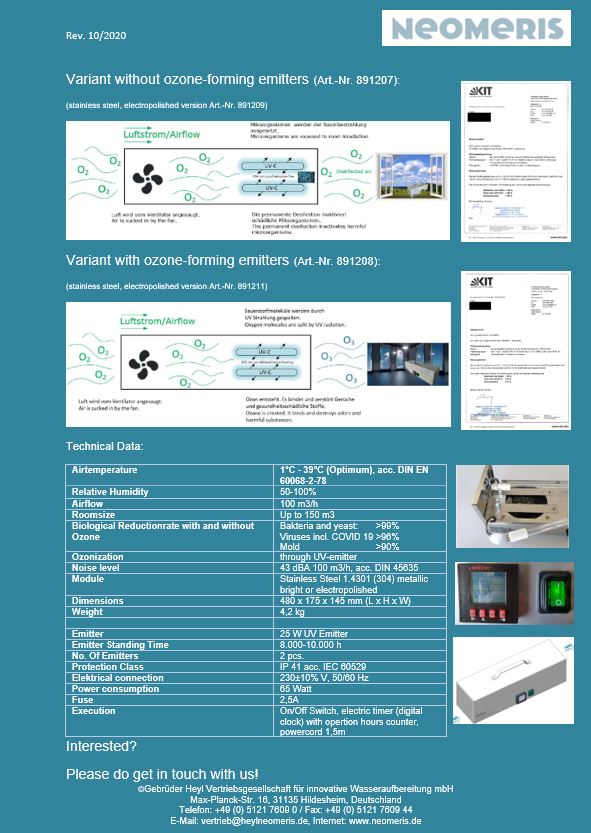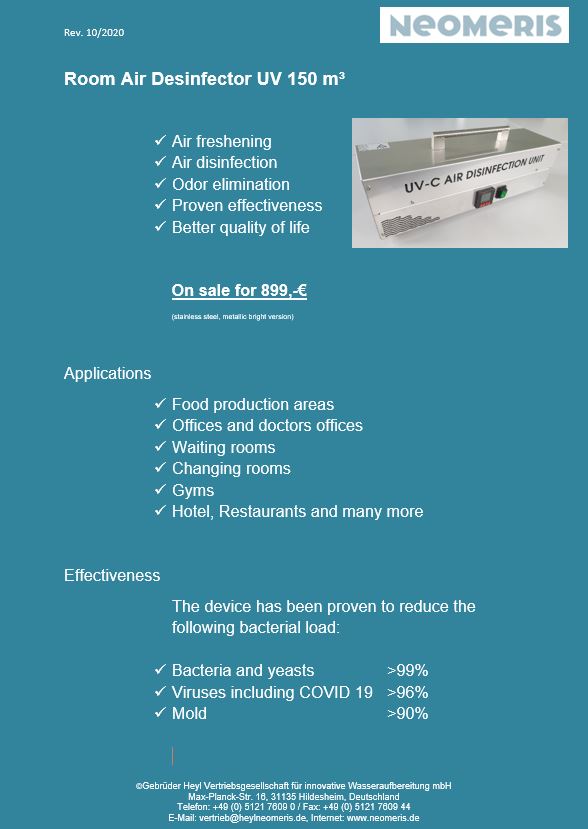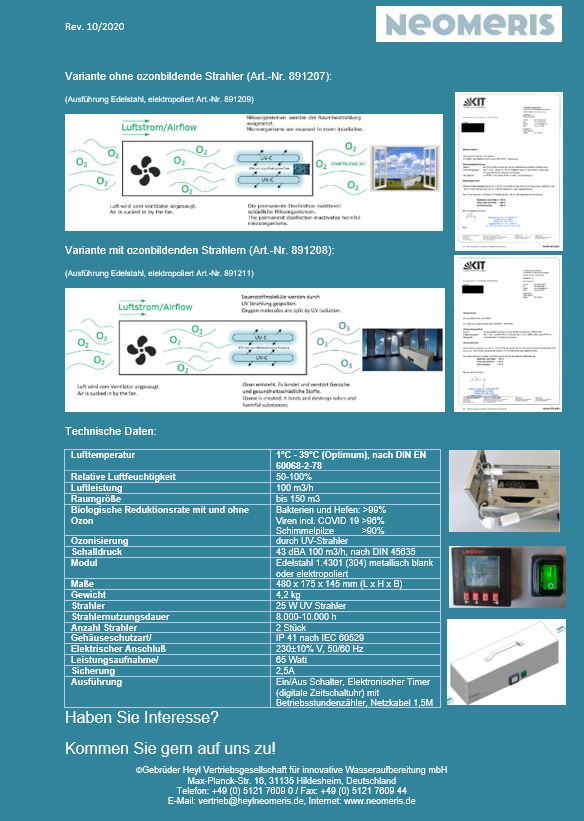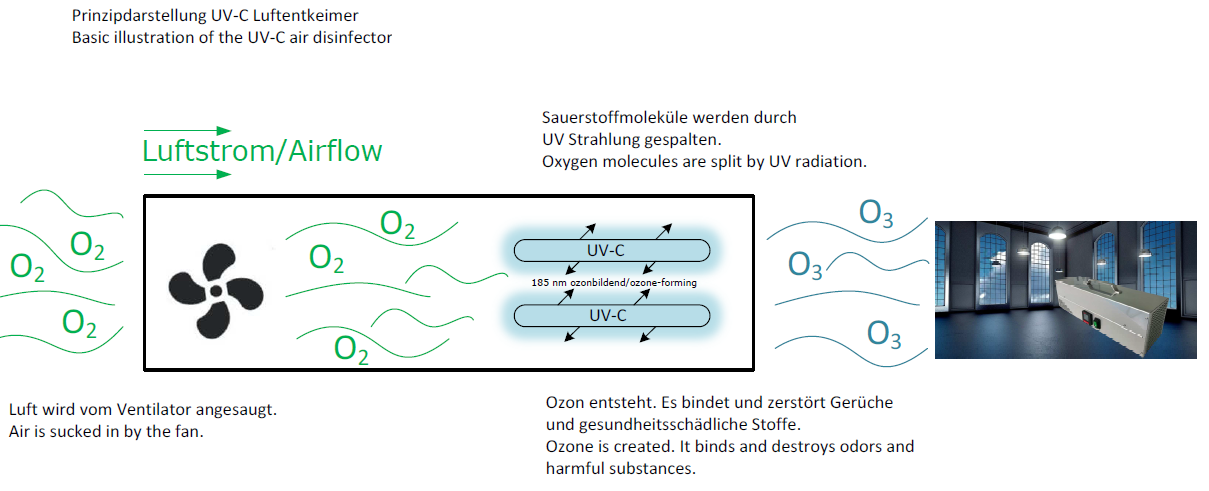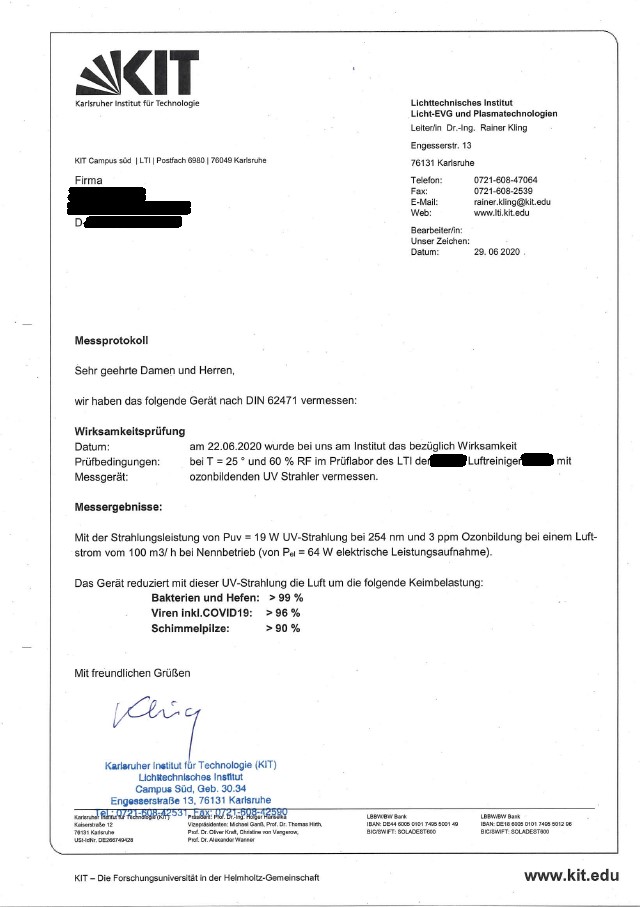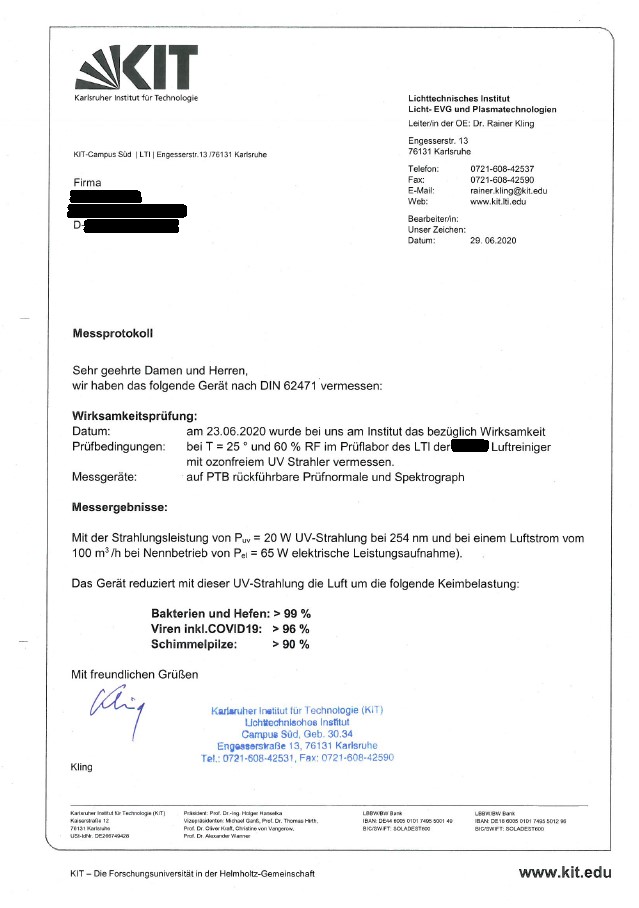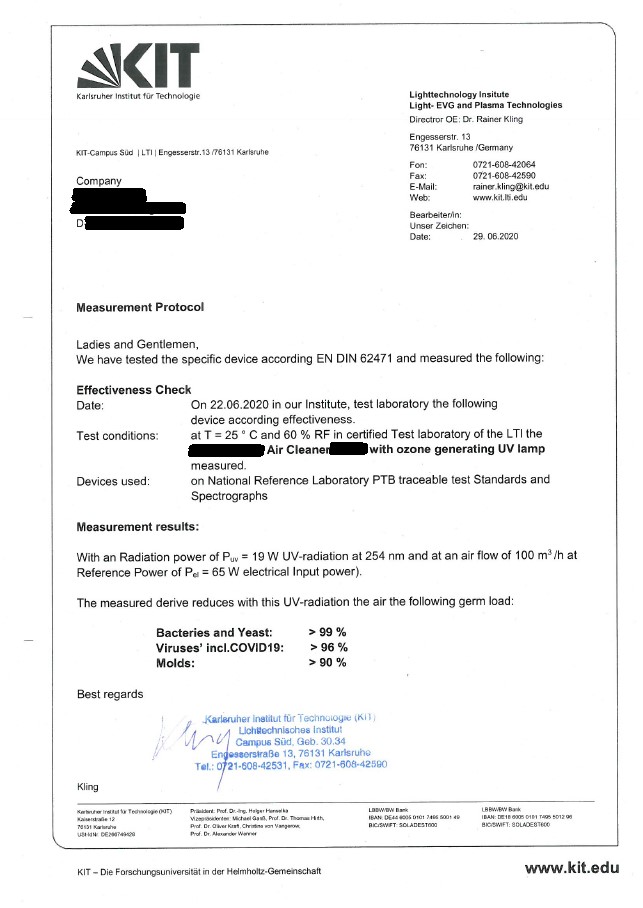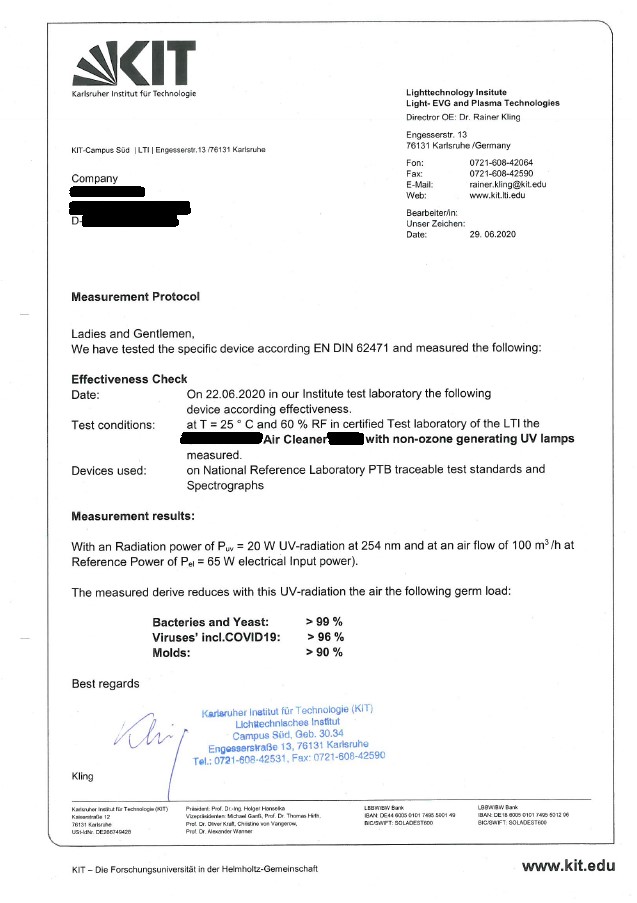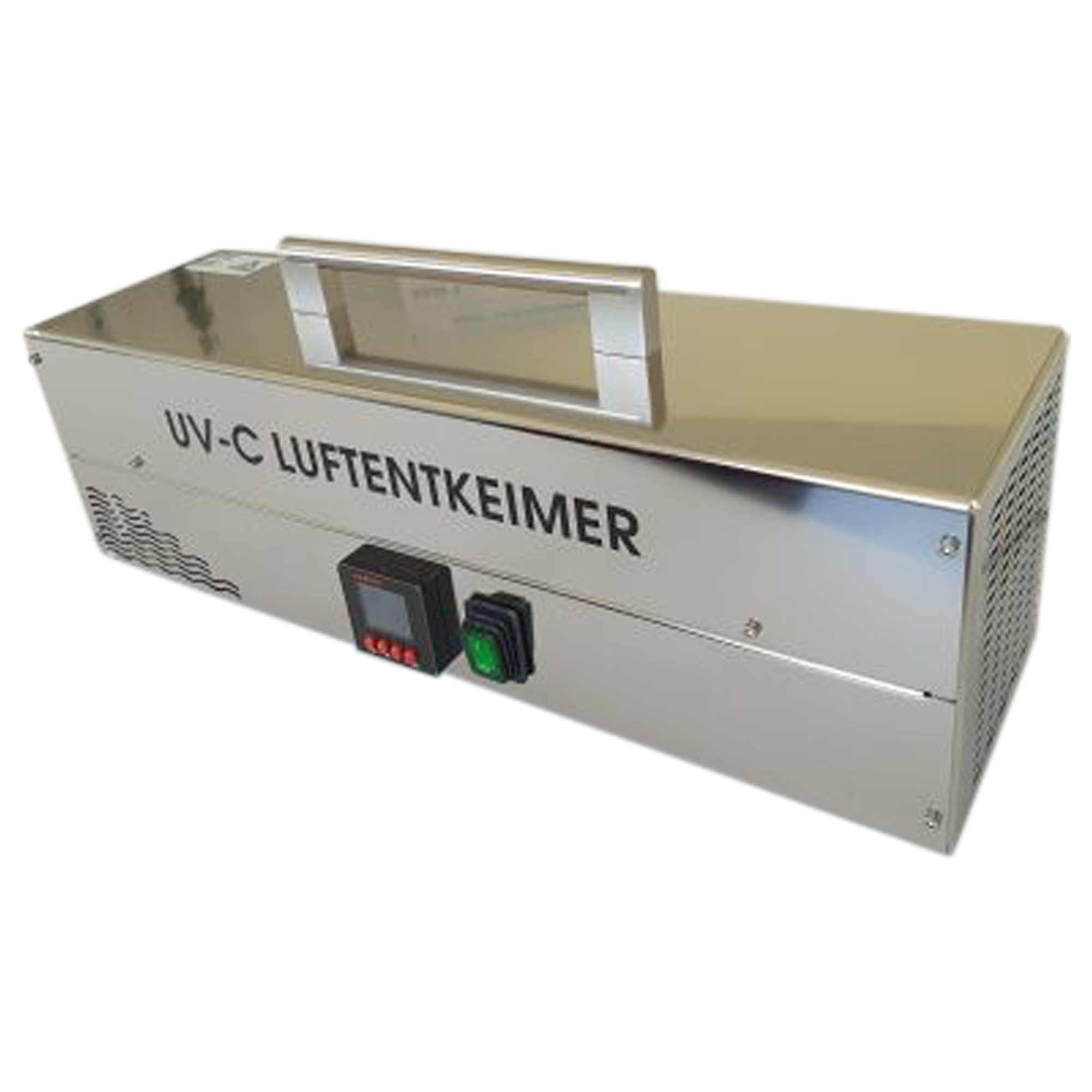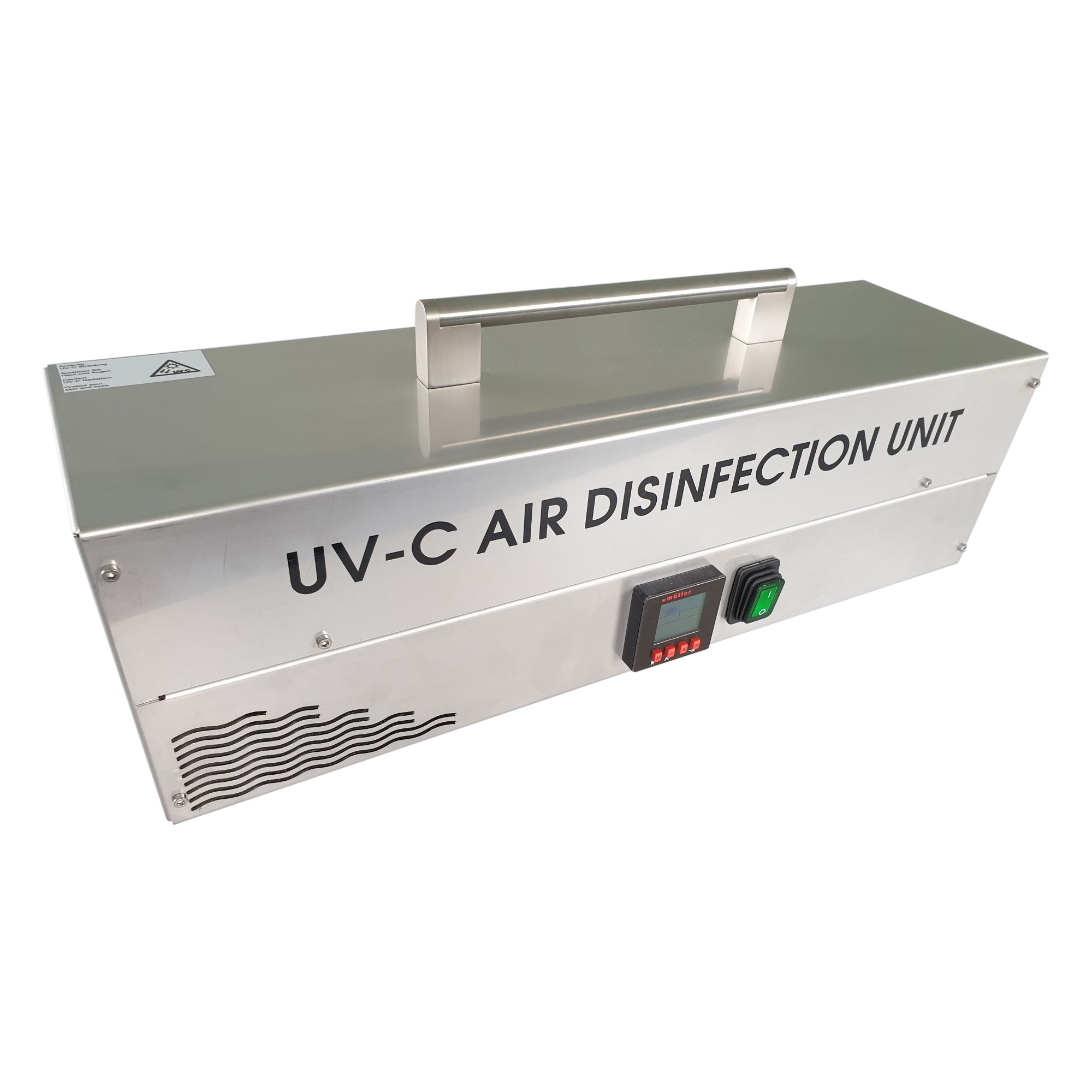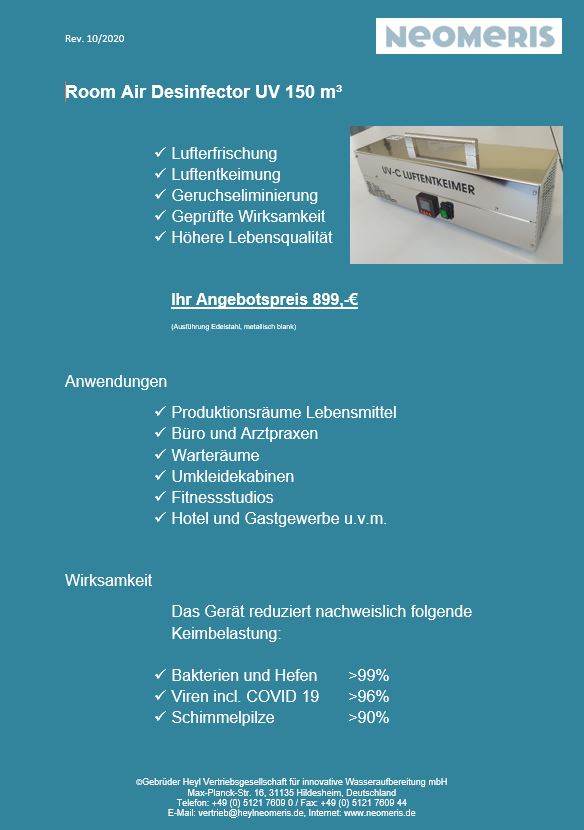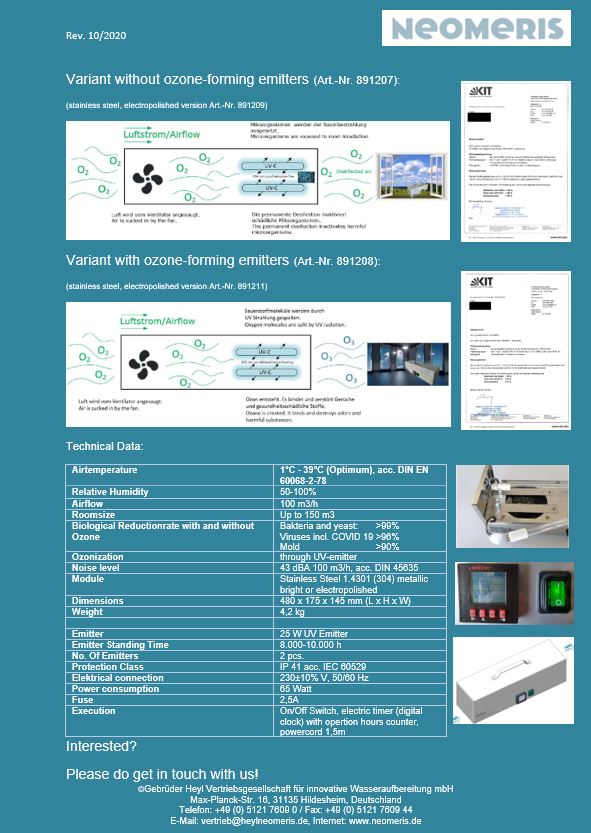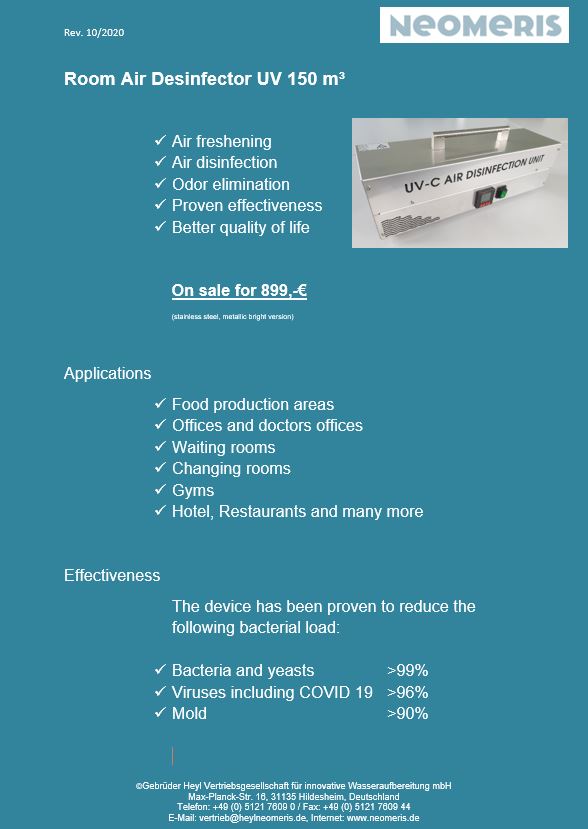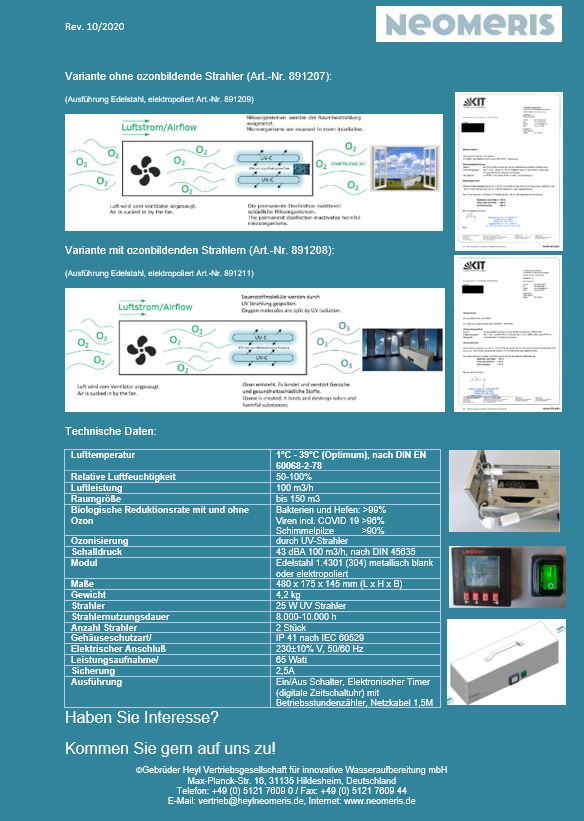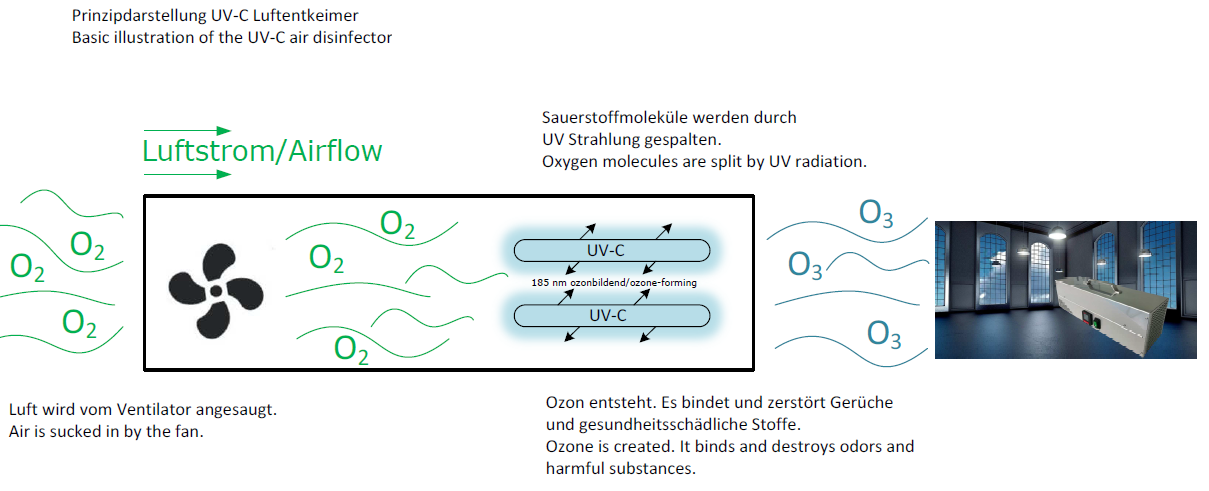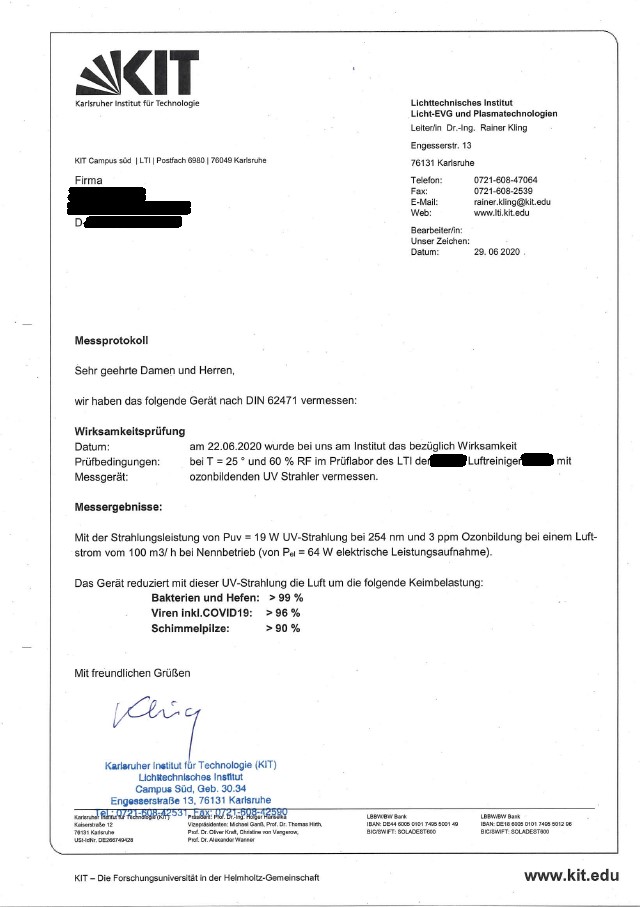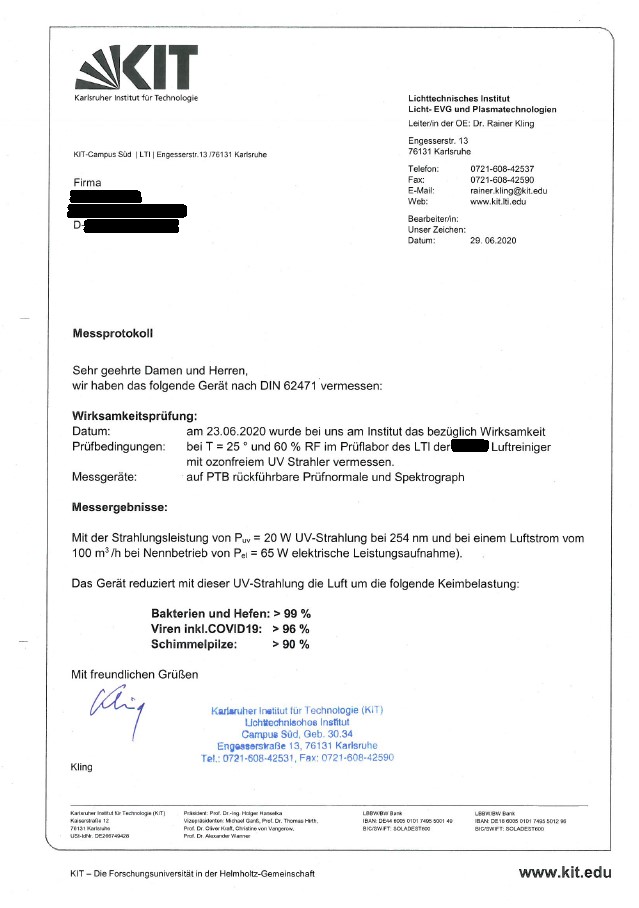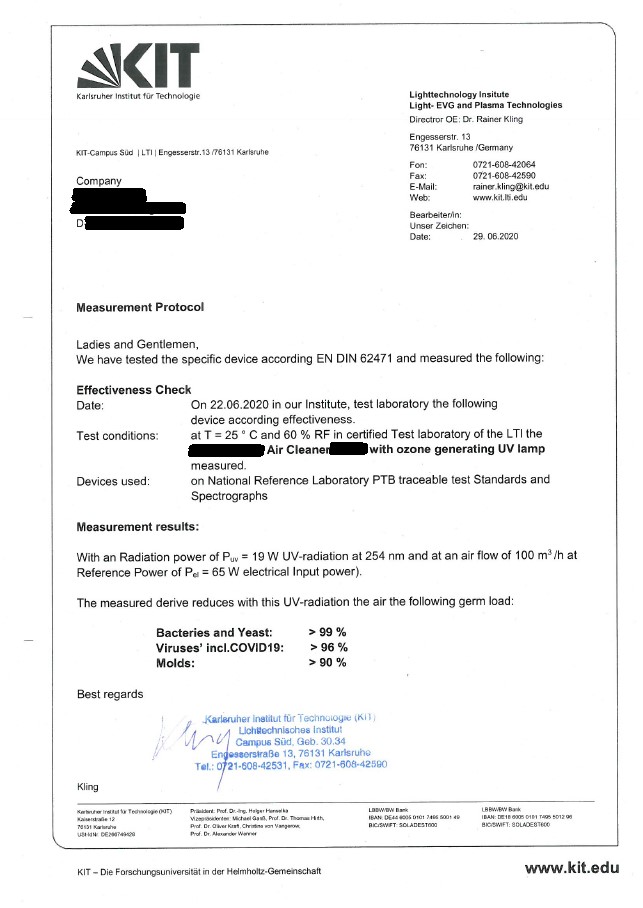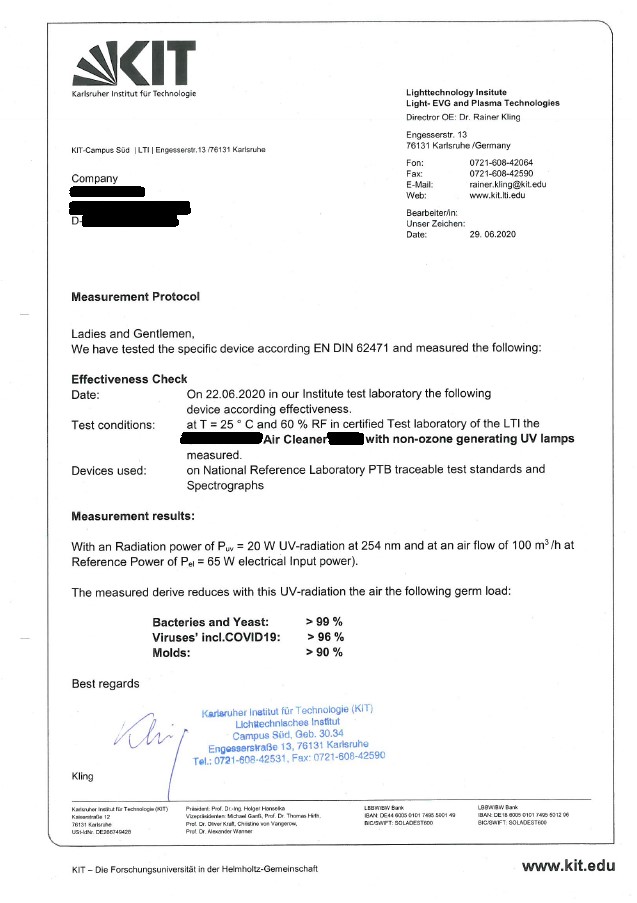 €986.90*
Please log in to receive your conditions.
Available in 7 days, delivery time 1-2 days
Product information "Room AIR Desinfector UV 150 m³"
MADE IN GERMANY - PROVEN EFFECTIVENESS BY THE KARLSRUHE INSTITUTE OF TECHNOLOGY




Advantages:
Air refreshment
Air disinfection
Odour elimination
Proven effectiveness
Higher quality of life
Applications:
Food production rooms
Office and medical practices
Waiting rooms
Changing rooms
Fitness centers
Hotel and catering industry and much more
Effectiveness
The device demonstrably reduces the following bacterial load:
bacteria and yeasts >99%.
viruses incl. COVID 19 >96%
moulds >90%
Technical data:
Air temperature: 1°C - 39°C (optimum), according to DIN EN 60068-2-78
Relative air humidity: 50-100%.
Air capacity: 100 m3/h
Room size: up to 150 m3
Sound pressure: 43 dBA 100 m3/h, according to DIN 45635
module: stainless steel 1.4301 (304), metallically bright
Dimensions: 480 x 175 x 145 mm (L x H x W)
weight: 4,2 kg
Lamps: 25 W UV lamps
Radiator service life: 8.000-10.000 h
Number of emitters: 2 pieces
Housing protection class: IP 41 according to IEC 60529
Electrical connection: 230±10% V, 50/60 Hz
power consumption: 65 watts
Fuse: 2,5A
Execution:
On/Off switch, electronic timer (digital timer) with h
our meter, power cord 1.5 meter
We recommend the following additional products: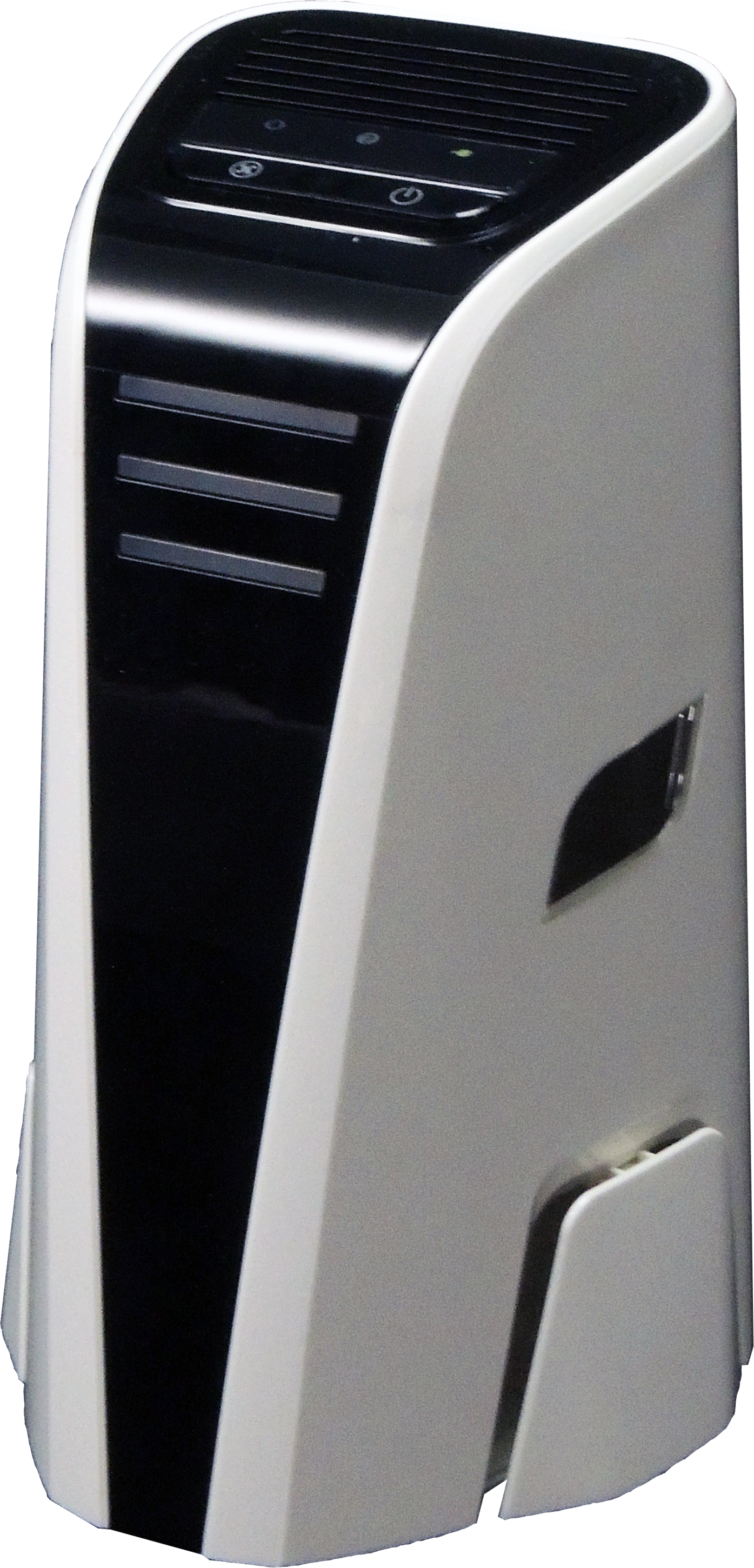 Conference AIR Desinfector LED UV
Product number: 891206
The air purifier cleans the indoor air of viruses, bacteria, pollen, dust particles and suspended solids.Ideal for office, meeting room, reception, customer event and many other applications.Allergy sufferers can breathe freely and the risk of transmitting diseases via the air is reduced. Device information: 108 x 110 x 202 mm < 4W at full power Ambient temperature: 1°C - 40 °C washable electrostatic honeycomb filterPower supply 5 VDC via USB cable on the PC, or plug-in power supplyNoise level:A very low noise level < 30dBLifetime / Cleaning:The two UV-C LEDs last about three years at 12 hours air cleaning per day The particle tray can be cleaned by hand once a week