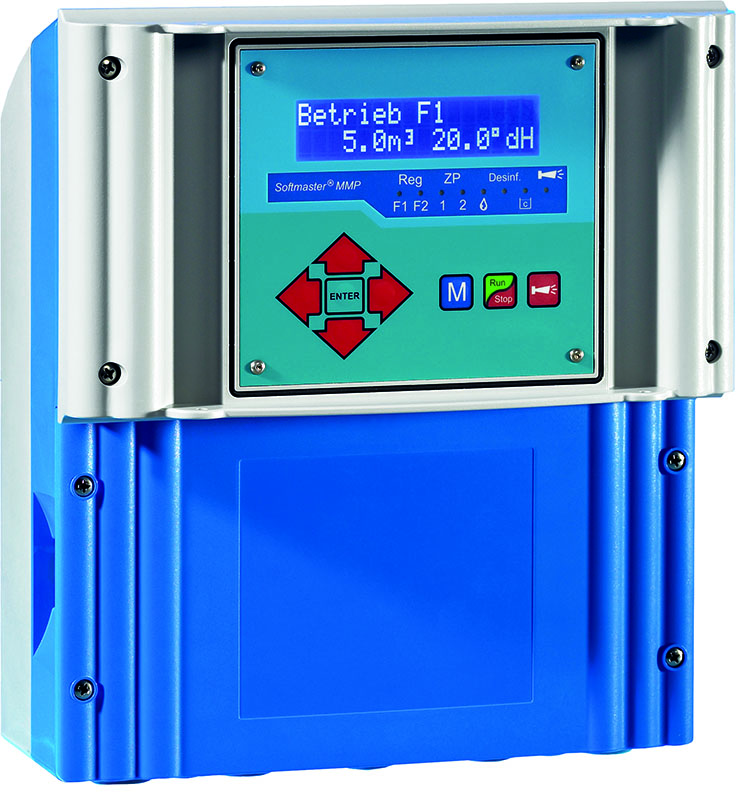 €837.40*
Please log in to receive your conditions.
Available in 28 days, delivery time 1-2 days
Application:
Boiler houses Cooling towers Softening and reverse osmosis
Menu navigation:
D, GB, F, NL, PL, I
Our comment:
Accessories: RS232 interface/ current interface 0/4-20 mA I/O card 0/4-20 mA (current interface Softmaster)
Product information "Softmaster® MMP 2"
Steuerung Softmaster® MMP 2 für die vollautomatische Regeneration von Wasserenthärtungsanlagen; geeignet für Zentralsteuerventile oder Pilotverteiler, angesteuert über einen elektrischen Wechsel- oder Impuls-schalter und für Pilotventile zur Ansteuerung von Regenerationsventilen; für Einfilter-, Zweifilter-Wechselschaltung, Parallel- und Reihenschaltung. Mengen-, zeit- oder qualitätsgesteuerte Regenerationsauslösung.
Leistungsprofil:
• Variables Kombi-Gehäuse für Schalttafeleinbau und Wandaufbau
• Mehrsprachige Menüführung
• Großes blaues LC-Display mit 2 Zeilen mit je 16 Stellen und Hintergrundbeleuchtung
• Fehlermeldungen werden im Wechsel mit Betriebsanzeigen angezeigt und in der Fehlerhistorie gespeichert
• Echtzeituhr
• 8 potenzialfreie Relaisausgänge für 2 Filter, Betriebsventile, 2 Zusatzprogramme und Störmeldung, Synchron-Kontakt
• Ausgang für Dosierimpuls
• 12 V-Stromversorgungsausgang für Wasserturbine
• Eingänge für 2 Wasserzähler
• 8 Eingänge für Regenerations-Start/ Regenerations-Stop,
Soleniveau – Leer/Voll, Synchronmeldungen von Ventilen und Fehlermeldungen von Testomat®-Geräten
Technische Daten:
Schutzart: IP65 / I
Netzanschluss: 115V, 230–240V od. 24V +/-10% 50–60Hz
Leistungsaufnahme: max. 9 VA
Abmessungen (B x H x T): ca. 270 x 295 x 130 mm
Schalttafelausschnitt: 262 x 146 mm, +1 mm
Gewicht: ca. 1,3 kg
Einbautiefe: ca. 90 mm
Frontrahmenmaß: 270 x 155 mm
Fernwartung und Fernüberwachung über das Telefonnetz bzw. Mobilfunknetz mittels RS232 und Modem, ISDN-TA oder GSM-Gerät möglich!
Dimensions
| | |
| --- | --- |
| Height | 21 cm |
| Length | 43 cm |
| Width | 35 cm |
Weight
Other attributes
| | |
| --- | --- |
| Country of origin | EU |
| Customs tariff number | 85371010 |