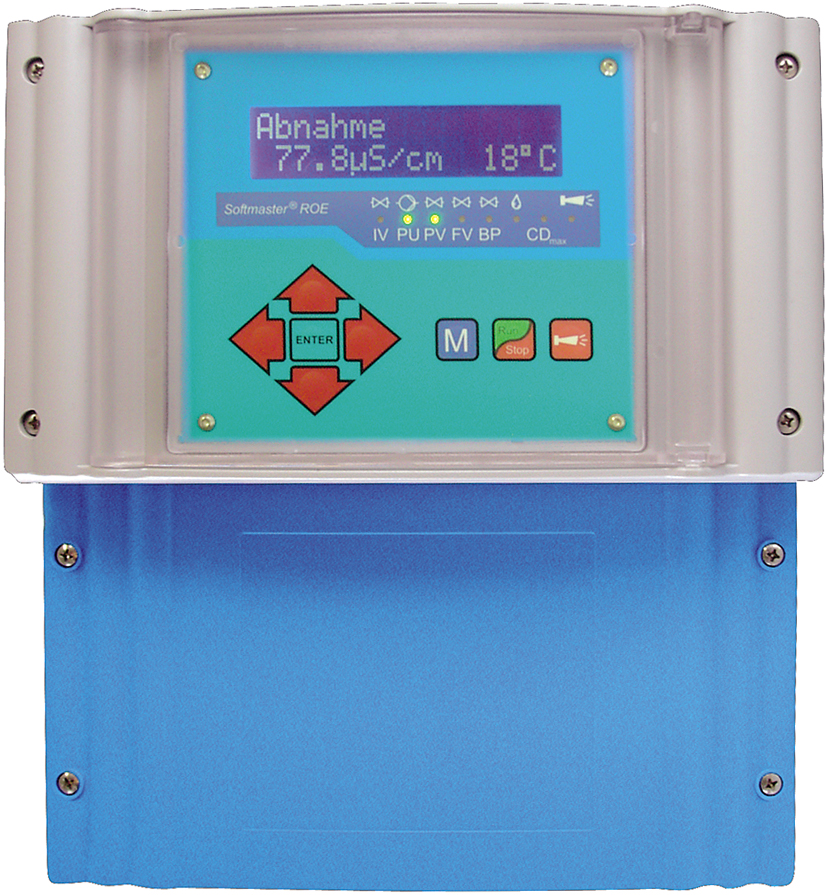 €1,173.80*
Please log in to receive your conditions.
Application:
Reverse osmosis plants with 1 conductivity measurement
Menu navigation:
German, English, French, Italien, Polish, Dutch
Our comment:
Die Steuerung Softmaster ROE 2 ist auch in der Version 230V / 24 V 50-60 Hz erhältlich. Wir informieren Sie gern.
Product information "Softmaster® ROE 2 incl. RS232 online card"
Controller Softmaster® ROE 2 with RS232 online card
Performance profile:
- 8 potential-free relay outputs for two pumps, programmable function
output, inlet valve, outlet valve, flushing valve, by-pass valve and error
message output
- Output for metering pulse
- 8 inlets for concentrate surveillance, emergency operation (by-pass)
and external motor protection switch, water deficiency message,
overpressure message, motor protection, storage tank FULL/EMPTY,
system stop
- 2 inputs for water flowmeter
- 12 V power supply for water turbine
- 4-20 mA input for a pressure transducer
Dimensions
| | |
| --- | --- |
| Height | 21 cm |
| Length | 43 cm |
| Width | 35 cm |
Weight
Other attributes
| | |
| --- | --- |
| Country of origin | DE |
| Customs tariff number | 85371010 |