JUMO AQUIS 500 pH - transmitter/controller in surface-mounted housing, 1x 0(4)-20mA / 0(2) to 10V output + 1x relay output, AC 110 to 240V power supply
Product number: 800052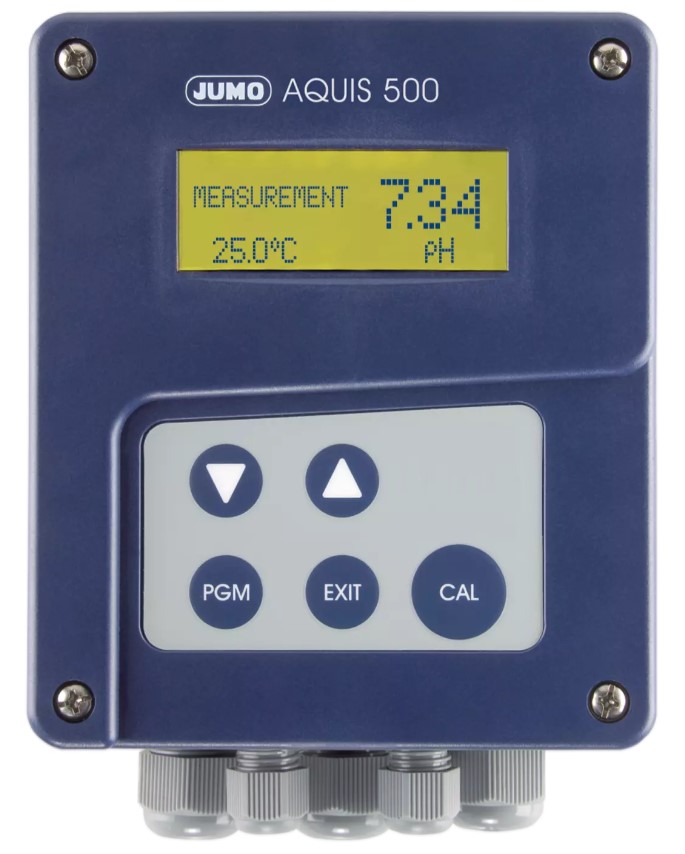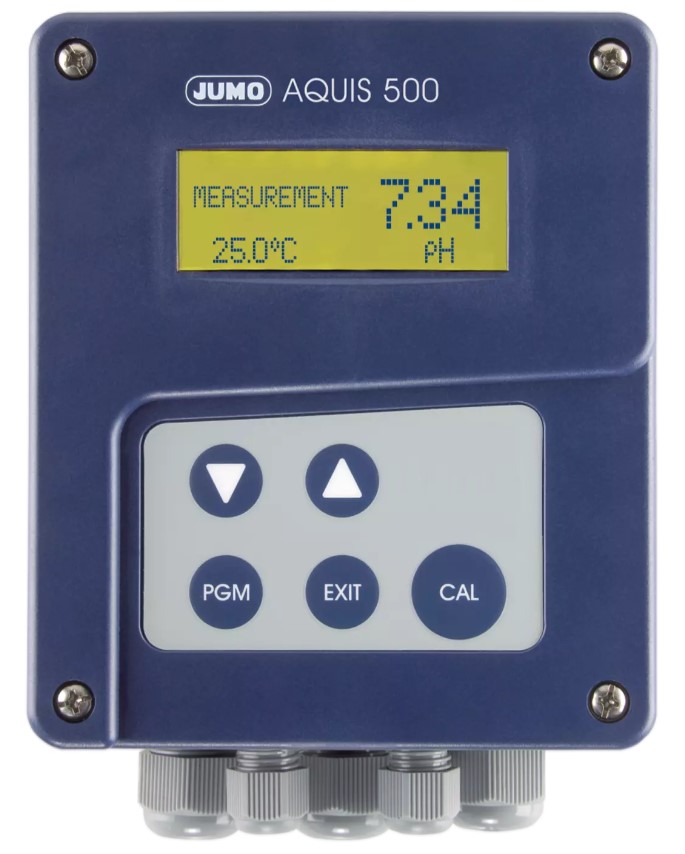 €829.80*
Please log in to receive your conditions.
Available in 10 days, delivery time 1-2 days
Measurement parameters:
pH value, ORP voltage or ammonia concentration measurement
Application:
Universally applicable in water and waste water management, industrial, process and waste water, drinking, well and surface water, leakage monitoring in cooling systems
Our comment:
Under the tab "Selection matrix & technical data" you will find an overview of the respective versions
Leasing Example
17,47 € non-binding
Monthly Rate (60 Rates)
Prices excl. VAT
Further rate options by choosing the payment method Leasing
Product information "JUMO AQUIS 500 pH - transmitter/controller in surface-mounted housing, 1x 0(4)-20mA / 0(2) to 10V output + 1x relay output, AC 110 to 240V power supply"
Version 2: stock version: type 202560/20-888-000-310-000-23/000 ; part-no. 00480050
The unit is used for measuring/controlling the pH-value, the redox-voltage or the
NH3
-(ammonia)-concentration. The function can be switched directly on the unit. Depending on the measurand, combination electrodes (e.g. pH/redox combination electrodes, gas-sensitive sensors) or separate versions (glass/metal electrodes with separate reference electrode) can be connected. The second input variable is the temperature measurement, which can be carried out with a Pt 100/1000, for example. Automatic temperature compensation is thus possible for the measured variables pH value and NH3. The units are operated via clear keys and a large LC graphic display. This display enables good readability of the measured value. The display of the parameters in plain text makes configuration easier for the operator and supports correct programming of the unit. The modular design of the unit allows it to be adapted to the requirements of the application. Up to four outputs are available.
Special features
direct switching option for pH value, redox voltage or NH3 (ammonia) concentration
Automatic temperature compensation
Large LC graphic display with backlighting
Display selectable: large digits, bar graph or tendency display
Solderless connection technology - Calibration options depending on measurand one/two/three-point calibration
calibration logbook
Impedance measurement can be activated for pH measurement
Asymmetrical and symmetrical connection of pH sensors
Possibility of connecting pH ISFET sensors through integrated output for sensor power supply
Protection class IP67 for surface mounting, protection class IP65 for control cabinet mounting
User languages switchable German, English, French; further languages can be loaded via setup program
Through setup program: convenient programming, system documentation, reloading of further user languages
Selection Matrix & Technical Specifications
Selection Matrix:
JUMO AQUIS 500 pH

Basic type

Output 1

Output 2

Output 3

Output 4

Power supply

Extra codes

Panel mounting

Surface-mounted housing

analogue, 0(4) to 20 mA ref. 0(2) to 10V

analogue, 0(4) to 20 mA ref. 0(2) to 10V

Relay with switch contakt

Relay with switch contakt

AC 110 to 240 V

AC/DC 20 to 30 V

Variant 1

•

•

•

•

•

•

none

Variant 2

•

•

•

•

none

Variant 3

•

•

•

none

Variant 4

•

•

•

•

•

•

none

Variant 5

•

•

•

•

none

Variant 6

•

•

•

•

•

•

none

individual

according to type sheet, please inform us of your request
Technical Specifications:
Inputs

Main input

Measuring range/Regulation range

Accuracy

Temperature impact

pH value

-1 to +15 pH

£ 0,3 %

0,2 %/10 K

ORP voltage

-1500 to +1500 mV

£ 0,3 %

0,2 %/10 K

NH3 (Ammonia)

0 to 9999 ppm

£ 0,3 %

0,2 %/10 K

Side input

Temperature Pt100/1000 (automatic detection)

-50 to +250 °Ca

£ 0,5 °C

0,05 %/10 K

Temperature NTC/PTC

max. 4 kW Input via table with 20 value pairs

£ 0,3 %b

0,05 %/10 K

a Switchable to °F.

b Depending on the support points.

Temperature compensation

Measured variable

Compensation

Rangea

pH value

yes

-30 to +150 °C (from software version 212.11.02)

-10 to +150 °C (until software version 212.11.01)

ORP voltage

no

n/a

NH3 (Ammonia)

yes

-20 to +50 °C

pH antimony

yes

-10 to +80 °C

a Observe the operating temperature range of the sensor!

Measuring circuit monitoring

Inputs

Underrange / Overrange

Short circuit

Wire break

pH value

yes

yesa

yesa

NH3 (Ammonia)

yes

no

no

pH antimony

yes

no

no

Temperature

yes

yes

yes

a During pH measurement, the sensor can be monitored for short-circuits and line breaks by activating impedance measurement.

Impedance measurement

The impedance measurement can be activated optionally.

Since it is dependent on some boundary parameters, the following points must be observed:



Only glass-based sensors are permitted.
The sensors must be connected directly to the transmitter.

It is not permissible to use an impedance converter in the measuring circuit!

The maximum permissible cable length between sensor and transmitter is 10 m.
Liquid resistances are directly included in the measurement result.

It is therefore recommended to activate the measurement in liquids from a minimum conductivity of approx. 100 µS/cm.


Binary Input

Activation

by potential-free contact

Function

Key lock

HOLD

Alarm suppression

Regulator

Regulator type

Limit comparators, limit controllers, pulse width controllers, pulse frequency controllers, three-point stepping controllers, continuous controllers

Regulator structure

P/PI/PD/PID

A/D-Converter

Dynamic resolution up to 14 bit

Sampling time

500 ms

Analoguee Outputs (max. 2)

Output type

Signal range

Accuracy

Temperature impact

permissible load resistance

Power signal

0/4 to 20 mA

£ 0,25 %

0,08 %/10 K

£ 500 W

Voltage signal

0 to 10 V

£ 0,25 %

0,08 %/10 K

£ 500 W




The analogue outputs behave according to the recommendation of NAMUR NE43.


They are galvanically isolated, AC 30 V / DC 50 V.

Switching outputs (maximum two changeover contacts)

Nominal load

3 A/AC 250 V (resistive load)

Contact lifetime

>2 × 105 switches at nominal load

Electrical Specifications:

Power supply

AC 110 to 240 V; -15/+10 %; 48 to 63 Hz

AC/DC 20 to 30 V; 48 to 63 Hz

DC12 to 24 V; +/-15 % (Connection only permitted to SELV/PELV circuits)

Power consumption

approx. 14 VA

Electric safety

DIN EN 61010, Part 1

Overvoltage category IIIa, Pollution level 2

Data backup

EEPROM

Electrical connection

Screw terminals

Wire cross-section max. 2.5 mm2 (Power supply, relay outputs, sensor inputs)

Wire cross-section max. 1.5 mm2 (analogue outputs; supply ISFET)

a Not valid for protective extra-low voltage of the power supply variant DC 12 to 24 V.

Housing

Material

ABS

Wire feed

Wire glands, max. 3 × M16 and 2 × M12)

Special Feature

Venting element to prevent condensation

Environmental temperature range

(Accuracy specifications are adhered to in this range)

-10 to +50°C

Operating temperature range (Function of the unit is given)

-15 to +65°C

Storage temperature range

-30 to +70°C

Climate resistance

rel. Humidity £ 90 % annual average without condensation (based on DIN EN 60721 3-3 3K3)

Protection classes according to EN 60529

Surface-mounted housing: IP67 Panel mounting: front IP65, rear IP20

Swinging proof

according to DIN EN 60068-2-6

Weight

Surface-mounted housing: approx. 900 g Control cabinet installation: approx. 480 g

Dimensions

See type sheet

Approvals/Mark of conformity

Mark of conformity

Test centre

Certificates/Test numbers

Test basis

applies to

c UL us

Underwriters Laboratories

E 201387

UL 61010-1

all variants