Silikat ist der Oberbegriff für anorganische SiO2 Verbindungen. Silikate sind die Salze und Ester der Ortho-Kieselsäure (Si(OH)4) und deren Kondensate. Alle Salze sind durch SiO4-Tetraeder aufgebaute Verbindungen, deren Tetraeder jedoch auf verschiedene Weise miteinander verknüpft sein können. Ein SiO4-Tetraeder ist somit der Baustein, der allen Silikaten zugrunde liegt. Ein Atom des Siliciums (SiO2) ist somit von vier Atomen Sauerstoff (O2) umgeben.
Silikate lassen sich in Wasser und weiteren Lösungsmitteln nicht auflösen.
Silikate kommen in natürlicher Form in der Erde vor. Der Mantel der Erde besteht fast zu 100% und die Kruste der Erde zu mehr als 90% aus Silikaten. Die bekannteste Silikatform ist der Quarz (SiO2). Silikate nehmen Feuchtigkeit zuverlässig auf und sind absolut geruchsneutral.
Aufgrund seiner hohen chemischen Stabilität wird Siliciumdioxid in vielfältigsten Bereich eingesetzt. Der bekannteste Einsatzbereich ist die Glasherstellung. Gemeinsam mit Phosphaten werden Silikate auch in der Trinkwasseraufbereitung eingesetzt. Die Kenntnis hierüber ist für die Planung und Auslegung von Wasseraufbereitungsanlagen elementar wichtig. Es kann bei unzureichender Aufbereitung des Wassers für Produktionsprozessen zu Problemen führen. Dies gilt beispielsweise im Prozess der Dampferzeugung für Turbinen im Kraftwerksbereich, wo Silikatablagerungen zu einem geringeren Wirkungsgrad der Turbinenschaufeln führen können. Auch im Bereich der Reinigung, Desinfektion sowie der nachgeschalteten Sterilisation von Medizinprodukten stellen Silikate im Prozesswasser ein hohes Risiko dar und es gilt das aufzubereitende Instrumentarium / Medizinprodukt frei von Silikat-Ablagerungen zu halten, um das Patientenrisiko minimal zu halten.
Refill pack: Reagents for TESTOVAL® SILICATE DISSOLVED
Product number: 410623
Refill pack: One set of reagents for TESTOVAL® SILICATE DISSOLVED 1 set reagentsfor approx. 10 analysesMeasuring time: approx. 19 minutes Measurement parameters: Silicate, SiO2 Measuring range: 0-10 mg/l SiO2. Application: Color comparison kit for the rapid manual analysis of silicate content in water in the concentration range 0-10 mg/l SiO2.
Testoval® Silicate dissolved kit
Product number: 410622
Color comparison kit for the rapid manual analysis of silicate content in water in the concentration range 0-10 mg/l SiO2. The individual values ... 0.25 mg/l 0.5 mg/l 1 mg/l 2.5 mg/l 5 mg/l 10 mg/l ... can be read by visual color comparison. By diluting the water sample in a ratio of 1:10 with distilled water, the measuring range can be extended to 10 times the concentration. In addition to the four reagents a color comparison device for easy determination of concentration is included in the supply. Number of analysis: approx. 100 Measuring time: approx. 19 minutes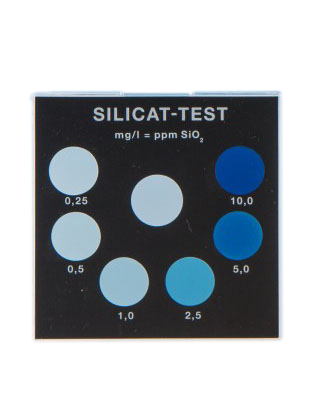 Testoval®Colour Comparator Silicate dissolved
Product number: 410624
Replacement color comparator without cuvette, dissolved for rapid manual analysis of the silicate content in water in the concentration range 0-10 mg/l SiO2.The individual values 0.25 mg/l, 0.5 mg/l, 1 mg/l, 2.5 mg/l, 5 mg/l and 10 mg/l can be read by optical color comparison. By diluting the water sample 1:10 with distilled water, the measuring range can be extended to 10 times the concentration. Only the color comparator for simple concentration determination is included in the scope of delivery.Measuring time: approx. 19 minutesAlso in our assortment: 1 set of reagents for approx. 100 analyses: Order No. 410623 Complete test kit TESTOVAL Silicate dissolved: order no. 410622