JUMO AQUIS RS, indicator/controller for digital sensors with Modbus protocol in surface-mounting housing, with RS485 Modbus master, analog output 0 (4) - 20mA or 0 - 10V output for main value
Product number: 800193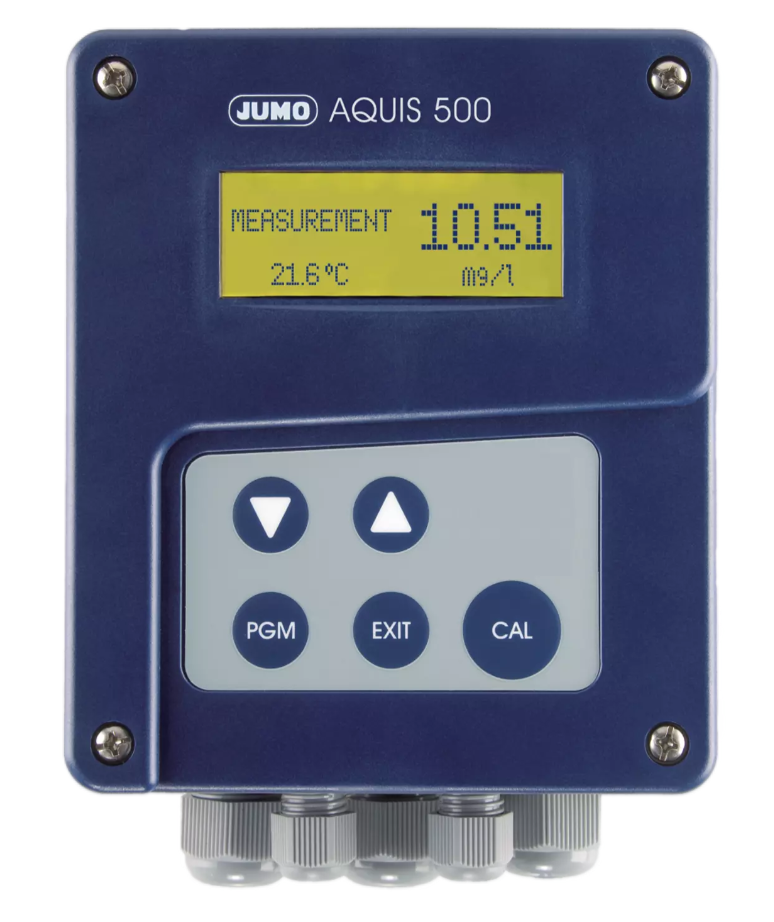 €683.70*
Please log in to receive your conditions.
Available in 7 days, delivery time 1-2 days
Our comment:
Under the tab "Selection matrix & technical data" you will find an overview of the respective versions
Product information "JUMO AQUIS RS, indicator/controller for digital sensors with Modbus protocol in surface-mounting housing, with RS485 Modbus master, analog output 0 (4) - 20mA or 0 - 10V output for main value"
Indicator/controller for digital sensors with Modbus protocol
The unit has 1 digital interface, 1 analogue temperature input and 1 binary input. The digital interface is suitable for connecting sensors that have a Modbus RS485 interface. If the connected sensor does not have an integrated temperature sensor, a resistance thermometer Pt100, Pt1000 or NTC/PTC (up to 4 k) can be connected to the analogue temperature input. The power supply for the digital sensor is integrated in the unit.
The LCD graphic display allows the input signals to be shown as digits or as a bar graph. The display of the parameters in plain text makes operation easy to understand and safe.
With two optional relay change-over contacts, both simple switching or alarm functions and sophisticated control tasks with P, PI, PD and PID behaviour can be realised. On request, the unit can also be supplied with two freely parameterisable and scalable analogue outputs (0 to 10 V, or 0(4) to 20 mA).

Special features
Display: mg/l, ppm, % SAT, %, ‰, g/l, ppb, µg/l, NTU, FNU, etc.
Special displays are also possible with the setup programme
Large LCD graphic display with backlighting

Display representation selectable: large digits, bargraph or trend display
Integrated calibration routines:
depending on the sensor: zero point, full scale and 2-point
Calibration logbook

Protection class IP67 for surface mounting

Protection class IP65 for control cabinet mounting

Operator languages (switchable): German, English, French

through setup program (option): convenient programming, system documentation, reloading of additional operating languages