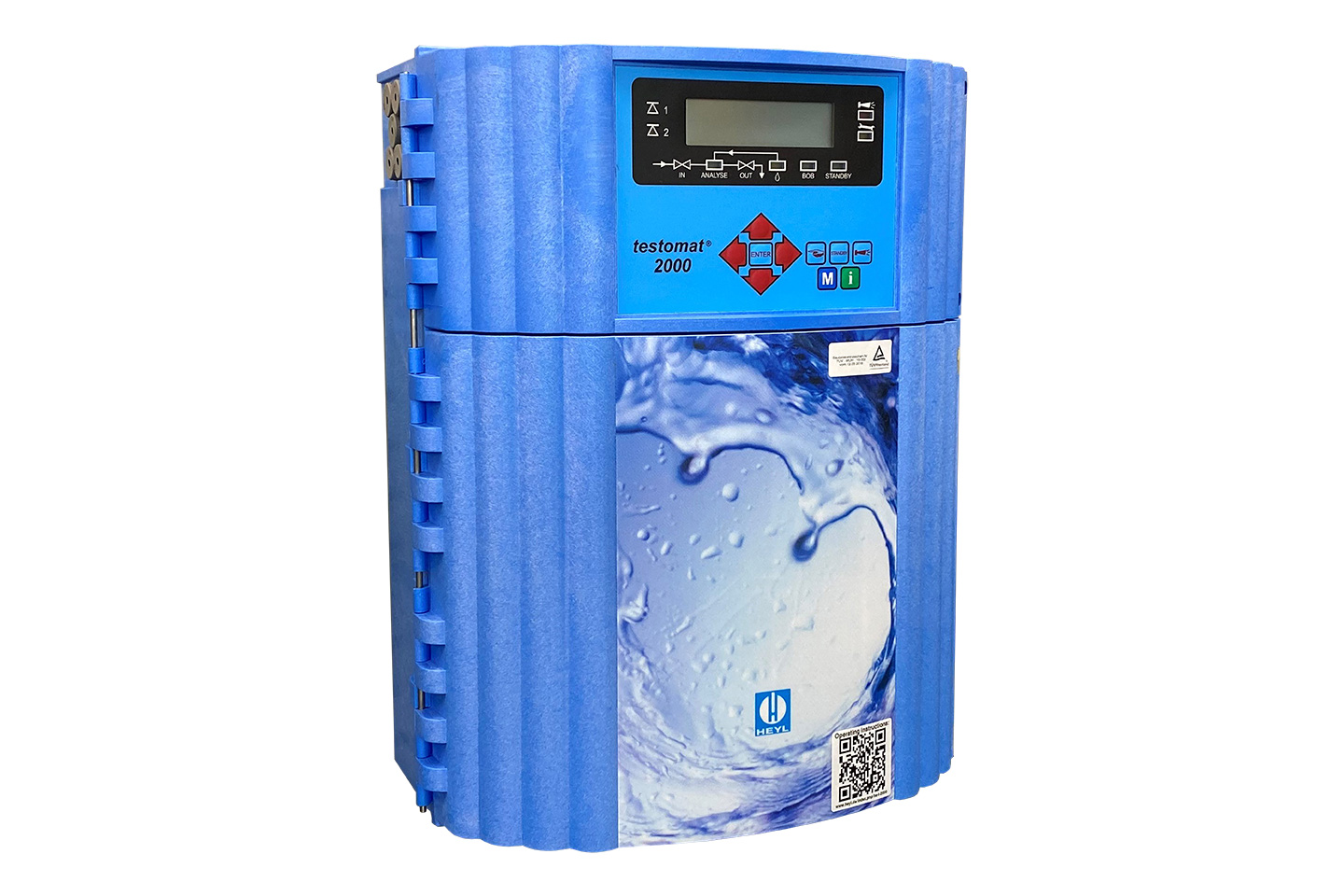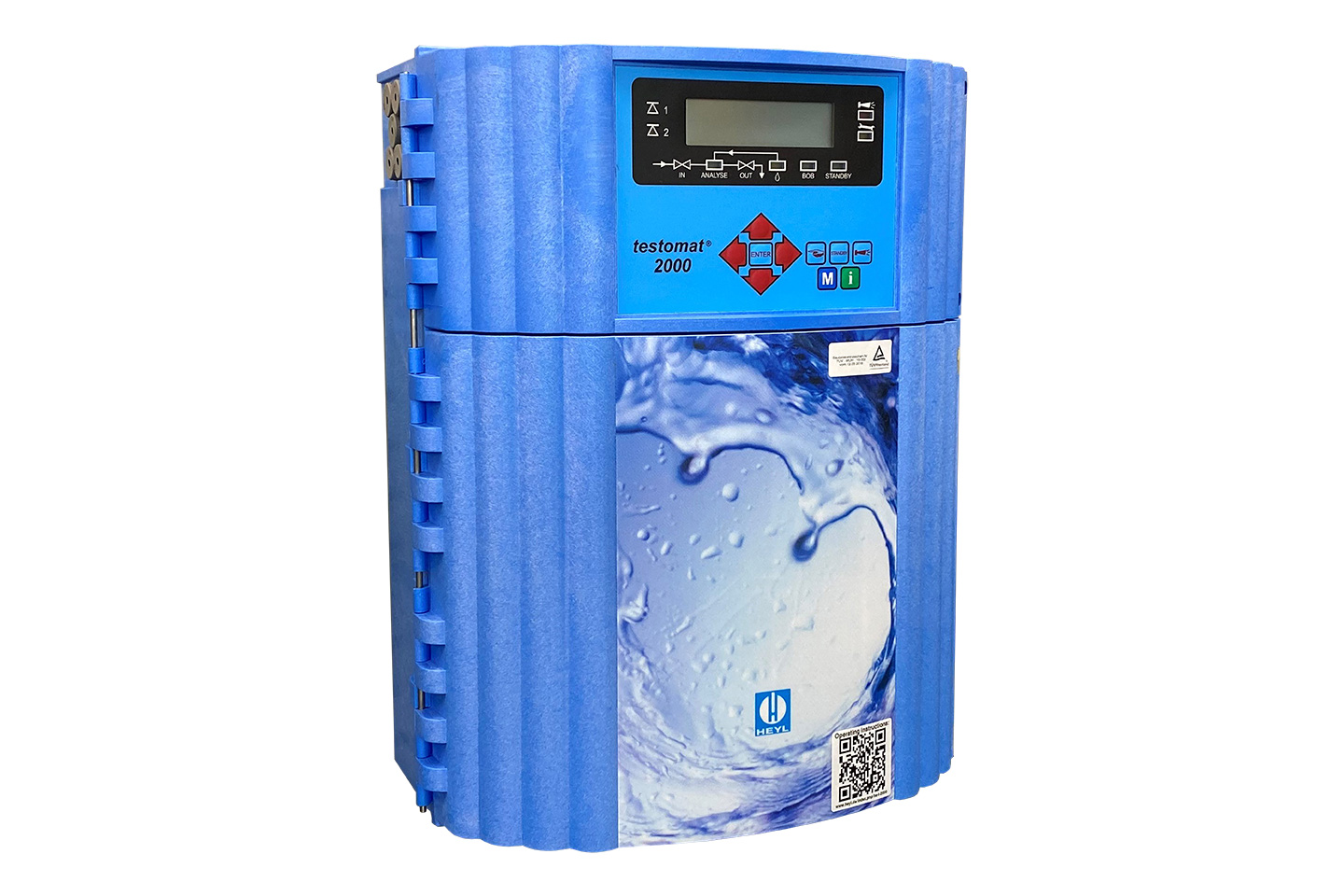 €5,634.80*
Please log in to receive your conditions.
Available in 140 days, delivery time 1-2 days
Measurement parameters:
Free chlorine
Measuring range:
0.00 – 0.99 mg/l (Resolution: 0.01 mg/l) 1 – 2.5 mg/l (Resolution: 0.1 mg/l)
Application:
Chlorination monitoring for drinking-water or swimming pools. | Provides protection for reverse osmosis membranes. | Control of chlorine biocides and conditioning agents.
Menu navigation:
German, English, French
Leasing Example
117,71 € non-binding
Monthly Rate (60 Rates)
Prices excl. VAT
Further rate options by choosing the payment method Leasing
Alternatives to this product
Testomat® LAB CL
Product number: 116106
Pro's
Messbereich 0 – 5 mg/l (T2000 hat nur 0 – 2,5 mg/l)
Integrierte Datenaufzeichnung (Messwerte sowie Fehlermeldungen) auf SD-Karte
Messfunktion als dauerhaft in festen Zeitintervallen oder Messphase*2 programmierbar
Was kann es nicht?
Grenzwertrelais
Keine Displayanzeige
Keine 2 Messstellen
Kein AUX Relais
Erforderlicher Leistungsumfang
Analyse für freies Chlor oder
Gesamtchlor (Festlegung durch
gewählten Reagenzsatz)
IST-Wert Bestimmung
4-20mA Messwertübertragung
Grenzwertrelais
(nur umsetzbar mittels NeoTecMaster®)
Ergänzende Funktionen
Displayanzeige für Messwerte
Schutzhaube für IP 65
Externe Analysenauslösung (START/STOP-Relais)
Parametrierung mittels PC-Software
*2
Nur während dieser Zeit werden Analysen im eingestellten Intervall durchgeführt. Außerhalb der Messphase wartet das Gerät auf ein Startsignal und gibt einen Strom von 4 mA aus. Es können Werte im Bereich von 10 Minuten bis 12 Stunden eingeben werden.
Testomat® LAB CL with NeoTecMaster® - value-added package
Product number: 851067
The Testomat® LAB CL is a robust wet chemical online measuring converter to measure the concentration of total chlorine or free chlorine in the measuring range 0 - 5 mg/l. The instrument is suitable for controlling the water quality of water treatment plants, drinking water plants, process water monitoring and for monitoring the chlorine concentration in the cooling tower process. Instrument operation is based on the DPD method according to EN ISO 7393-2. The analysis is carried out through the addition of two reagents and the measurement result is obtained after a reaction time of approx. 60 seconds (pure measurement time without flush time).
In view of the fact that the Testomat® LAB CL was developed for use in multi-parameter systems or for connection to a higher-level control system, we hereby offer you the Testomat® LAB CL in combination with the NeoTecMaster® Multi Channel Controller, which was specially developed by our company, as a package solution at a preferential price.
The 4-channel NeoTecMaster® multi-parameter controller included in this package enables the processing of up to four measurement signals in this version. A signal input, in this case the RS232 interface, is used by the Testomat® LAB CL to display the measured value, the trend and the status messages on the 5 inch screen.
In addition to the on board RS232 interface, the NeoTecMaster® also has a Modbus RTU input, which you can use freely after brief technical consultation with us. (Pre-check whether your existing measurement technology to be integrated requires adjustments).
The NeoTecMaster® can be systematically supplemented with further optional NeoTec modules (function / signal converter modules) as required, thus enabling the future realisation of further control concepts in a flexib ...
Product information "Testomat 2000® CLF"
The
Testomat 2000® CLF
process photometer is an online analyzer for monitoring the
ontent of free chlorine (CLF) in the range of 0-2.5 mg / L (ppm).
Performance profile:
Analysis via automatic dosing of two reagents
The analysis result is displayed after a reaction time of approx. 1 min. (Measuring time without rinsing time)
2 independently programmable limit contacts for monitoring and control tasks
Menu-driven operation and programming via plain text display
High-precision titration using a piston dosing pump
Analysis initiation:

Automatic interval operation
(Interval pause adjustable from 0–99 min)
External control
Dynamic (fatigue-dependent interval operation)
Quantity dependent via contact water meter

Two independent limits with hysteresis (1, 2 oder 3 bad analyzes) and adjustable switching functions
Monitoring of two measuring points (Switching by external solenoid valves)
programmable service address
Internal error documentation
Programmable maintenance interval for maintenance request
Other attributes
| | |
| --- | --- |
| Country of origin | DE |
| Customs tariff number | 90278990 |
Technical specifications
| | |
| --- | --- |
| Power consumption: | max. 30 VA |
| Protection class: | I |
| Protection: | IP 65 |
| Ambient temperature: | 10–45 °C |
| Water temperature: | 10–40 °C |
| Dimensions (W x H x D): | 380 x 480 x 280 mm |
| Operating pressure: | 0,3–8 bar |
| Weight: | approx. 9,5 kg |
| Menu Language: | German, English, French |
| Measuring range: | Free chlorine: 0.00 – 0.99 mg/l (Resolution: 0.01 mg/l) 1 – 2.5 mg/l (Resolution: 0.1 mg/l) |
We recommend the following reagents and accessories