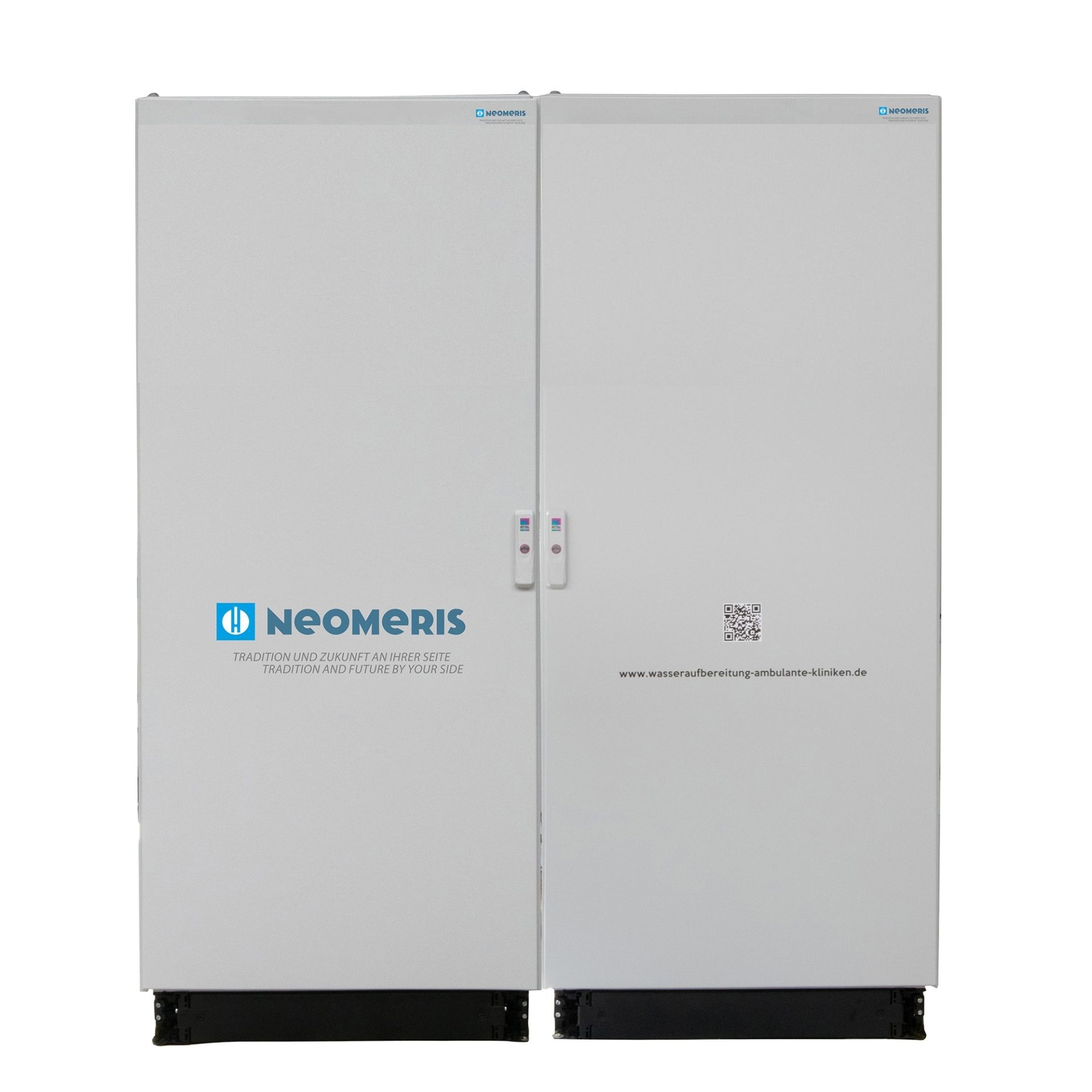 €24,324.50*
Please log in to receive your conditions.
Available in 49 days, delivery time 1-2 days
Our comment:
Hinweis: Den Schrank gibt es auf Anfrage auch mit einzelnen Flügeltüren. (z.B. für einen geringeren Platzbedarf beim Öffnen, etc.)
Leasing Example
500,11 € non-binding
Monthly Rate (60 Rates)
Further rate options by choosing the payment method Leasing
Product information "Wasseraufbereitungsanlage ambulante Kliniken in Standardausführung"
Die modulare Wasseraufbereitungsanlage wurde speziell für den ambulanten Versorgungsbereich entwickelt. Unter Beibehaltung der Gesamtgeometrie kann die Anlage auf die unterschiedlichen Wasserhärtegrade in Deutschland, die Bedarfsmengen in unterschiedlichen ambulanten Zentren, als auch an die Ausgangswasserqualität inklusive etwaiger Aufbereitungsschritte seitens der Versorger angepasst werden. Die Modularität bietet den entscheidenden Vorteil, dass das Gesamtkonzept auf den jeweiligen Wassertyp beziehungsweise die Zusammensetzung als auch die Aufbereitungsverfahren des Versorgers angepasst werden kann.
Prinzip
Die Wasseraufbereitungsanlage kann aufgrund ihrer modularen Bauweise an die unterschiedlichen Gegebenheiten im ambulanten Versorgungsbereich angepasst werden. Dazu zählen verschiedene Wasserhärtegrade, Bedarfsmengen in ambulanten Zentren, die Ausgangswasserqualität und die Aufbereitungsschritte. Eine optimale Wasseraufbereitung ist relevant für eine verlässliche Verfügbarkeit von Instrumentarium für Operationen. Zusätzlich geht der Schutz des Instrumentariums und der Gerätetechnik damit einher. Weitergehend stehen etwaige Beschädigungen des Instrumentariums oder der Gerätetechnik immer im direkten Zusammenhang mit dem Thema Patientensicherheit. Zur Aufbereitung des Wassers kommen eine Vorfiltration, eine Enthärtungsanlage, eine Umkehrosmoseanlage mit einem 100 Liter Permeatbehälter inklusive Wasserschloss und Sterifilter sowie eine dauerhafte Leitwertund Silikat-Überwachung durch einen Testomat® 808 SiO2 am Mischbett sowie Rezirkulationssystem mit integrierter UV-Anlage und Pyrogenfilter zum Einsatz.

Abwasser Abführung über Solehebeanlage
Als optionale Komponente kann die Aufbereitungsanlage um eine integrierte Abwasserhebeanlage erweitert werden, welche das erzeugte und gesammelte Abwasser in die Kanalisation fördert. Als wesentliche Abwasservolumenströme sind hierbei das Abwasser aus der Regeneration der Enthärtungsanlage sowie das Konzentrat der Umkehrosmose zu benennen. In der Hebeanlage werden auch die diskontinuierlich anfallenden Abwasserströme des Silikatmessgerätes, des Systemtrenners sowie das Spülwasser, welches bei Wechsel der Eingangsfilter (insbesondere Aktivkohlefilter) anfällt, gesammelt.

Absperrung über Systemtrenner
Zum Schutz des Trinkwassernetzes vor Verunreinigungen durch aufbereitetes Wasser bzw. Veränderungen der natürlichen Zusammensetzung des eingespeisten Trinkwassers durch die technische Aufbereitung dessen, ist die Installation eines Systemtrenners zwingend vorgeschrieben. Die Anlage verfügt über einen integrierten Systemtrenner (Typ BA), welcher sich direkt hinter dem Aqua-Stop des Wasseranschlusses befindet.

Rittal Schranksysteme
Die Anlagenkomponenten sind in zwei Rittal-Schränken verbaut. Rittal ist ein führender Hersteller von Schranksystemen und bietet eine breite Palette von Lösungen für die sichere Aufbewahrung und den Schutz von elektronischen Komponenten und Geräten. Rittal Schranksysteme sind in verschiedenen Größen, Ausführungen und Konfigurationen erhältlich und eignen sich für verschiedene Anwendungsbereiche wie IT-Infrastruktur, Industrieautomation, Energieverteilung und Telekommunikation.
Die Schranksysteme von Rittal zeichnen sich durch hohe Qualität, Funktionalität und Flexibilität aus. Rittal Schränke werden aus hochwertigen Materialien hergestellt und bieten eine robuste Konstruktion, die einen zuverlässigen Schutz für die darin befindlichen Geräte gewährleistet. Sie sind gegen Staub, Schmutz, Feuchtigkeit, Vibrationen und andere Umgebungseinflüsse geschützt. Rittal Schranksysteme sind modular aufgebaut, was bedeutet, dass sie an die spezifischen Anforderungen und den verfügbaren Platz angepasst werden können. Sie bieten eine Vielzahl von Optionen für die Montage von Zubehör wie Fachböden, Kabelmanagement, Klimatisierungseinheiten und Stromverteilungseinheiten. Die Schranksysteme von Rittal bieten verschiedene Sicherheitsmerkmale wie abschließbare Türen, Sicherheitsschlösser und Zugangskontrollsysteme, um den unbefugten Zugriff auf die Geräte zu verhindern und die Datensicherheit zu gewährleisten. Für die Aufstellung der modularen Wasseraufbereitungsanlage von HeylNeomeris wird lediglich eine minimale Grundfläche von 1,60m x 1m benötigt. Sie besteht aus 2 Schränken, die jeweils 80cm breit und 60cm tief sind. Es besteht die Möglichkeit mit Doppel-flügeltüren zu arbeiten und somit ergibt sich aufgrund der Tiefe von 60cm und einer Doppelflügeltür mit einem Abmaß von 40cm, eine Fläche von 1m in der Raumtiefe.
Die verwendeten Schränke sind aus stabilen Stahlblechmodulen gefertigt und weisen eine hochwertige Oberflächenbeschichtung auf.

Standardausstattung der Anlage
Testomat® 808 SiO2 Silikat Messgerät
Zu der dauerhaften Silikat Überwachung kommt ein Testomat®808 SiO2 Silikat zum Einsatz. Der Testomat®808 SiO2 ist ein Messgerät, das zur Bestimmung des Silikatgehalts in Wasser eingesetzt wird. Das Messprinzip des Testomat®808 SiO2 basiert auf der sogenannten Molybdänblau-Methode. Dabei reagiert das Silikat im Wasser mit einer Reagenzlösung, die Molybdän enthält. Diese Reaktion erzeugt eine blaue Farbe, deren Intensität proportional zum Silikatgehalt ist. Das Messgerät erfasst die Farbintensität mittels eines optischen Sensors und wandelt sie in einen Messwert um, der den Silikatgehalt des Wassers repräsentiert. Der Testomat®808 SiO2 ist in einem kompakten Gehäuse untergebracht, das eine Bedienoberfläche, Anzeige- und Steuerelemente sowie Anschlüsse für Wasserproben und Abfluss enthält.
Durch den Einsatz des Testomat 808®SiO2 wird die verlässliche Einhaltung des seitens des DGSV sowie AKI empfohlenen Grenzwertes für SiO2 in Höhe von 0,4 mg/l sichergestellt.
Im Falle einer Grenzwertüberschreitung besteht die Möglichkeit diese an den optional erhältlichen NeoTecMaster® zu übermitteln oder direkt ein optisches Warnelement anzusteuern. Eine kontinuierliche Überwachung des Silikatgehaltes ist erforderlich, um etwaige Ablagerungen sowie hieraus im Folgenden resultierende Beschädigungen von Gerätetechnik und Instrumentarium wirksam zu vermeiden.
Durch den Einsatz des Testomat®808 SiO2 können Unternehmen den Silikatgehalt kontinuierlich überwachen und bei Bedarf entsprechende Maßnahmen ergreifen, um Ablagerungen zu verhindern.
Silikatgehalt kontinuierlich überwachen und bei Bedarf entsprechende Maßnahmen ergreifen, um Ablagerungen zu verhindern.
Optionale Bestandteile der Anlage:
UV-Desinfektion Mini

Pyrogenfilter

Hebeanlage

NeoTecMaster® 5 Zoll mit Gehäuse

Sichtfenster

Innenbeleuchtung

Aqua-Stop (Magnetventil-Absperrung)

Auffangwannen
Dimensions
Height

1.800 cm

Length

1.600 cm

, 80 cm
Weight