emec K-Plus Service Set M - Stainless Steel Pump Head, Viton Seal and PTFE Diaphragm
Product number: 896349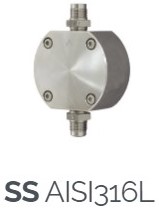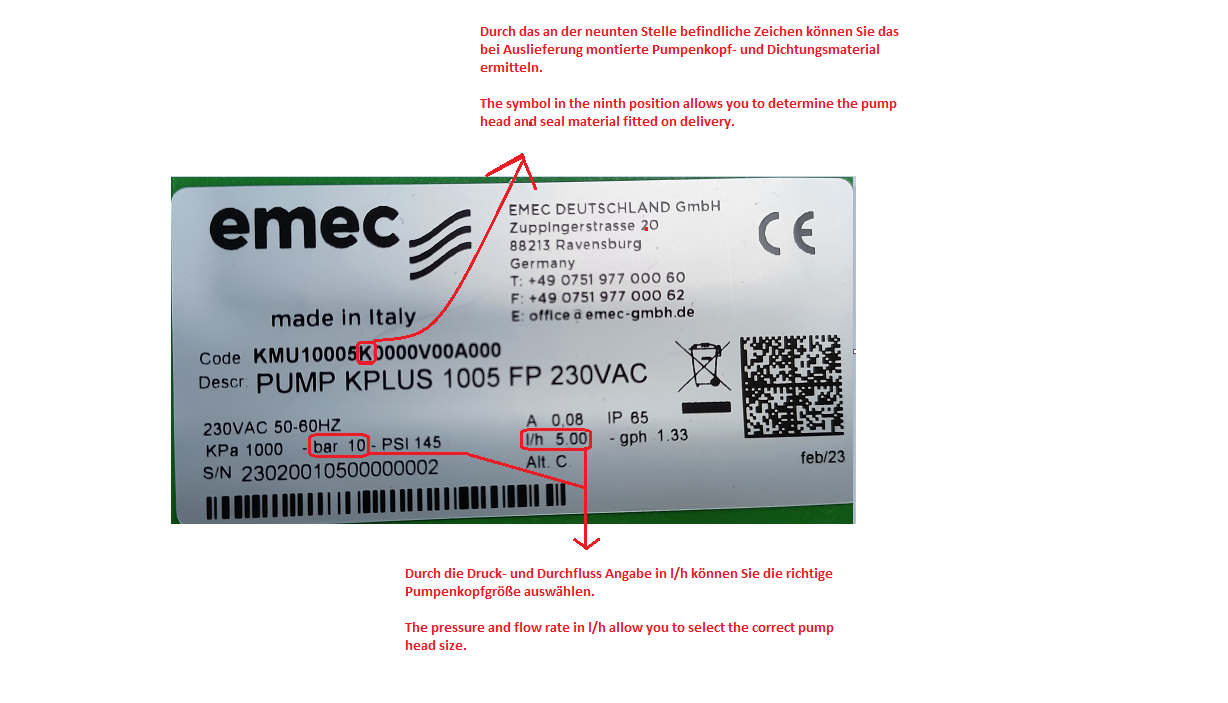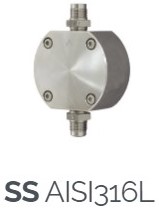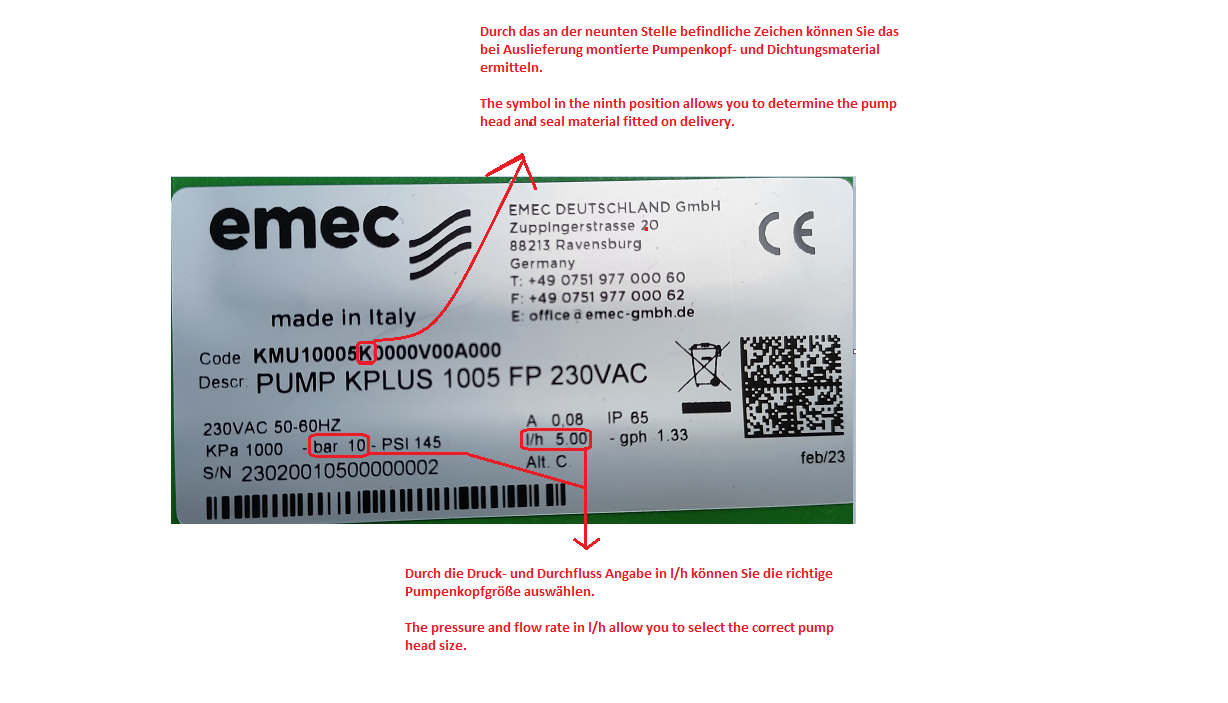 Available in 7 days, delivery time 1-2 days
Product information "emec K-Plus Service Set M - Stainless Steel Pump Head, Viton Seal and PTFE Diaphragm"
The emec service set for the K-Plus pump consists of the pump head, including sealing ring and a diaphragm, which is the same for all versions of the pump and is made of PTFE.
Our service sets are available in the versions I, L and M. The only difference is the size of the pump head, which varies according to pressure and flow rate. The second choice on your part determines the material of the pump head and the material of the sealing ring.
The correct selection of the service set, i.e. the correct choice of pump head size and pump head and seal material, can easily be made via your K-series pump type plate as follows.
1. On the type plate of your K-PLUS pump you will find the pressure "bar xxx - PSI xxx" above the serial number and then the pump capacity "l/h xxx - gph xxx". With these two items of information, you can easily determine the correct pump head size (I, L, M).
(see example picture of type plate in the article)
Version I
1 bar / 3 litres per hour
1 bar / 5 litres per hour
1 bar / 20 litres per hour
Version L
5 bar / 10 litres per hour
8 bar / 8 litres per hour
10 bar / 5 litres per hour
15 bar / 4 litres per hour
18 bar / 2 litres per hour
Version M
2 bar / 18 litres per hour
2. hidden in the "code" on the type plate you will find the reference to the pump head mounted at delivery and its sealing material. The ninth character indicates the sealing material.
(see example picture of the type plate in the article)
The most common types are listed below and these are shown via our selection matrix:
K = PVDF pump head with Viton seal
D = PP pump head with EPDM seal
A = PMMA pumphead with Viton seal
R = PMMA pumphead with EPDM seal
Z = Stainless steel with Viton seal
£ = Stainless steel pump head with EPDM gasket
(other types are available on request)
Service set contents:
PVDF pump head with Viton seal:
1x pump head (dosing head) incl. seal
- Stainless steel screws and caps (only for L and M service set)
PP pump head with EPDM seal:
1x pump head (dosing head) incl. seal
- Stainless steel screws and caps (only for L and M service set)
PMMA pump head with Viton or EPDM seal:
1x pump head (dosing head) incl. seal
- Stainless steel screws and caps (only for L and M service set)
*Stainless steel pump head with Viton or EPDM seal:
1x seal without pump head (no change required as stainless steel)
Other attributes
| | |
| --- | --- |
| Country of origin | IT |
| Customs tariff number | 84139100 |