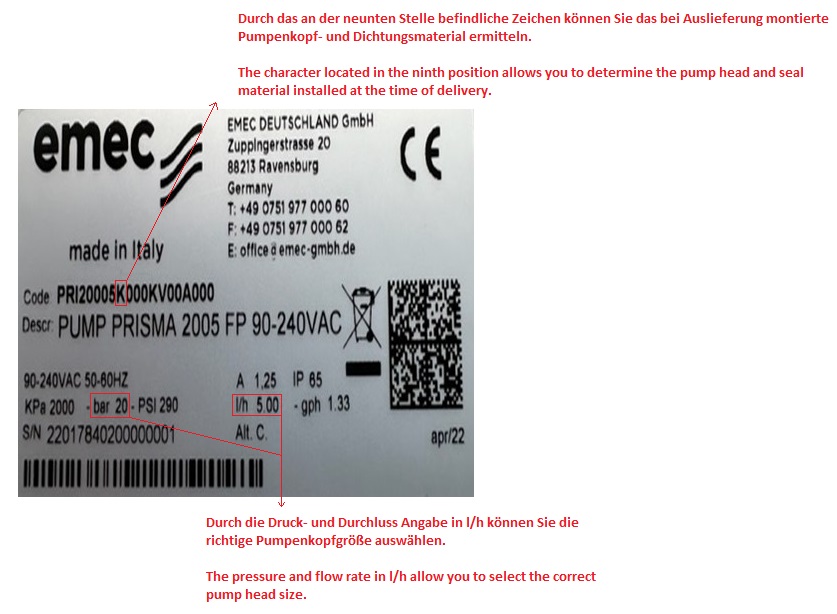 €163.00*
Please log in to receive your conditions.
Available in 7 days, delivery time 1-2 days
Product information "emec PRISMA Service Set L - PMMA pump head, EPDM seal and PTFE membrane"
Das emec Service- Set für die PRISMA Pumpe besteht aus dem Pumpenkopf, samt Dichtring und einer Membran, welche bei allen Ausführungen der Pumpe gleich ist und aus dem Material PTFE besteht.
Unsere Service- Sets gibt es in den Ausführungen I, L, M und N. Der Unterschied hierbei ist einzig die Größe des Pumpenkopfes, welcher je nach Druck- und Durchflussmenge verschieden groß ausfällt. Die zweite Auswahl Ihrerseits bestimmt das Material des Pumpenkopfes und das Material des Dichtrings.
Die richtige Auswahl des Service-Sets, sprich die richtige Wahl der Pumpenkopfgröße sowie des Pumpenkopf- und Dichtungsmaterials, kann einfach über Ihr Typenschild der Prisma Pumpe wie folgt getroffen werden.
1. Auf dem Typenschild Ihrer Prisma Pumpe finden Sie über der Angabe der Seriennummer den Druck "bar xxx - PSI xxx" und nachfolgend die Pumpleistung nach "l/h xxx - gph xxx". Mit diesen beiden Angabe können Sie einfach die richtige Pumpenkopfgröße ermitteln (I, L, M, N)
(siehe Beispielbild Typenschild im Artikel)
Ausführung I

20 bar / 1 Liter pro Stunde
Ausführung L
16 bar / 7,5 Liter pro Stunde

20 bar / 5 Liter pro Stunde

25 bar / 2 Liter pro Stunde
Ausführung M
10 bar / 13 Liter pro Stunde
Ausführung N
2 bar / 80 Liter pro Stunde

3 bar / 70 Liter pro Stunde

4 bar / 50 Liter pro Stunde

5 bar / 28 Liter pro Stunde

7 bar / 20 Liter pro Stunde
2. Auf dem Typenschild finden Sie im "Code" versteckt den Hinweis auf den bei Auslieferung montierten Pumpenkopf und dessen Dichtungsmaterial. Das neunte Zeichen gibt das Dichtungsmaterial wieder.

(siehe Beispielbild Typenschild im Artikel)
Die gängigsten Typen finden Sie nachfolgend und diese werden über unsere Auswahlmatrix abgebildet:
K = PVDF Pumpenkopf mit Viton Dichtung
D = PP Pumpenkopf mit EPDM Dichtung
A = PMMA Pumpenkopf mit Viton Dichtung
R = PMMA Pumpenkopf mit EPDM Dichtung
Z = Edelstahl mit Viton Dichtung
£ = Edelstahl Pumpenkopf mit EPDM Dichtung
(weitere Typen sind auf Anfrage bei uns erhältlich)
| | |
| --- | --- |
| Gewicht: | 250 g |
| Ursprungsland: | IT |
| Zolltarifnummer: | 84139100 |