NeoTec Select Sensor Conductivity modular measuring package with Modbus signal output
Product number: 891012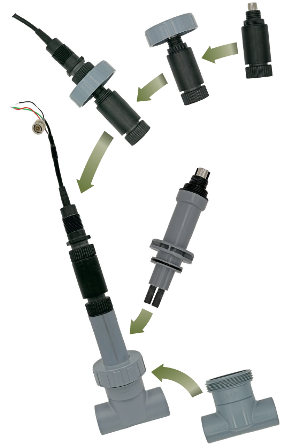 €743.25*
Please log in to receive your conditions.
Available in 30 days, delivery time 1-2 days
Product information "NeoTec Select Sensor Conductivity modular measuring package with Modbus signal output"
The conductivity measuring package consists of a 3 meter connection cable, a Modbus head transmitter, and the conductivity sensor. Due to the design of the sensor assembly, only the sensor needs to be replaced, when it should be worn out . All other components of this system can be used continuously. For an optimal process integration the NeoTec sensor is delivered with a fitting T-piece.
Advantages:
preconfigured for NeoTecMaster®
modular design
industry standard
resource friendly
Technical data:
Cell constant: C=1.0 +/-10%.
Measuring range: 1 to 10.000 μS/cm
Pt1000
Material: CPVC
Max. Temperature / Pressure: 60°C (140 deg F)/ 6.5bar (100 psig)
Modbus module 24 VDC
Connection cable 3m, cable ends tinned
Flow cell 1" with 3/4" NPT inner thread