Ozonia Membrel MkV-S-3 - Electrolytic ozone generator, ozone output 3x 3-4 g/h, system unit
Product number: 850943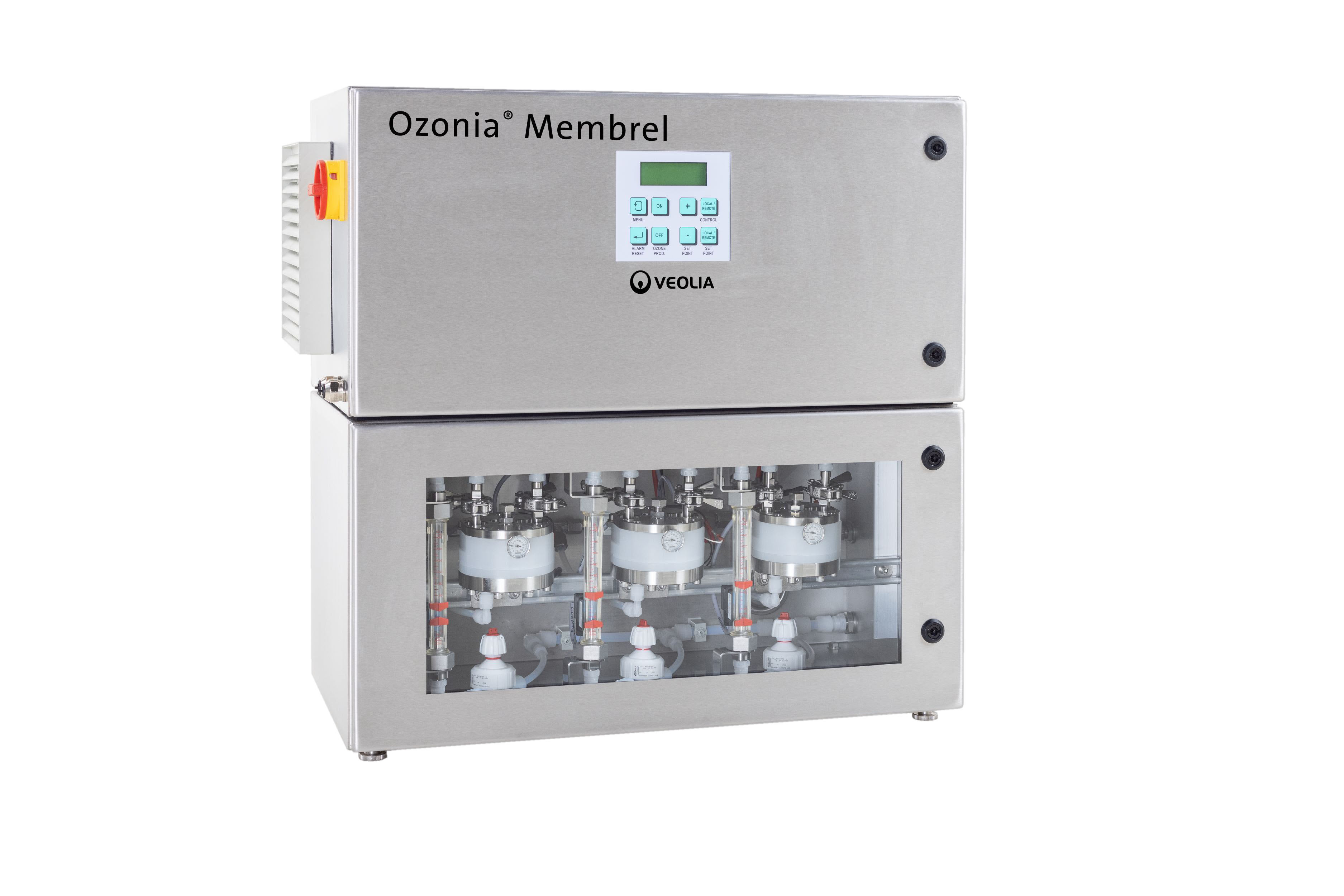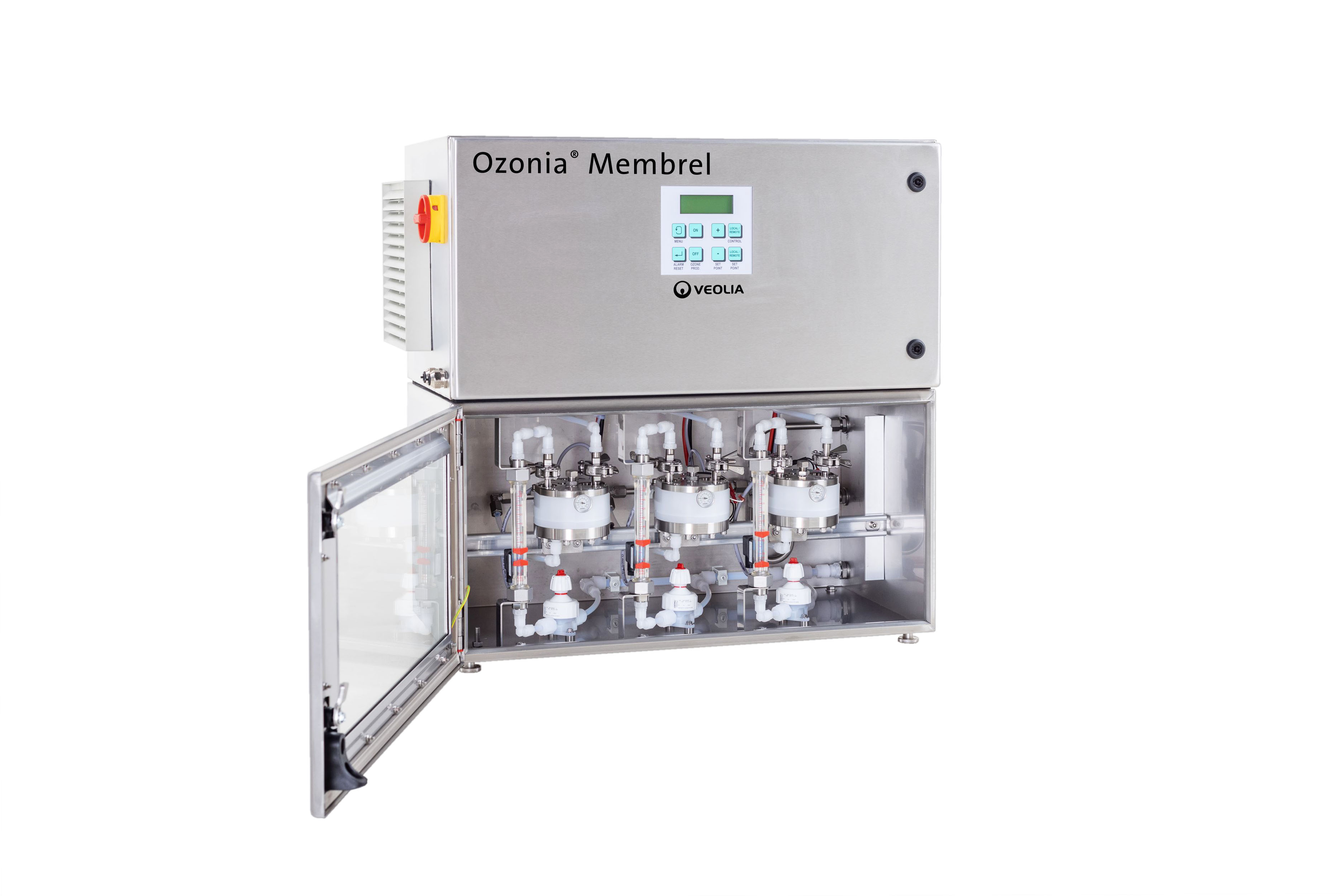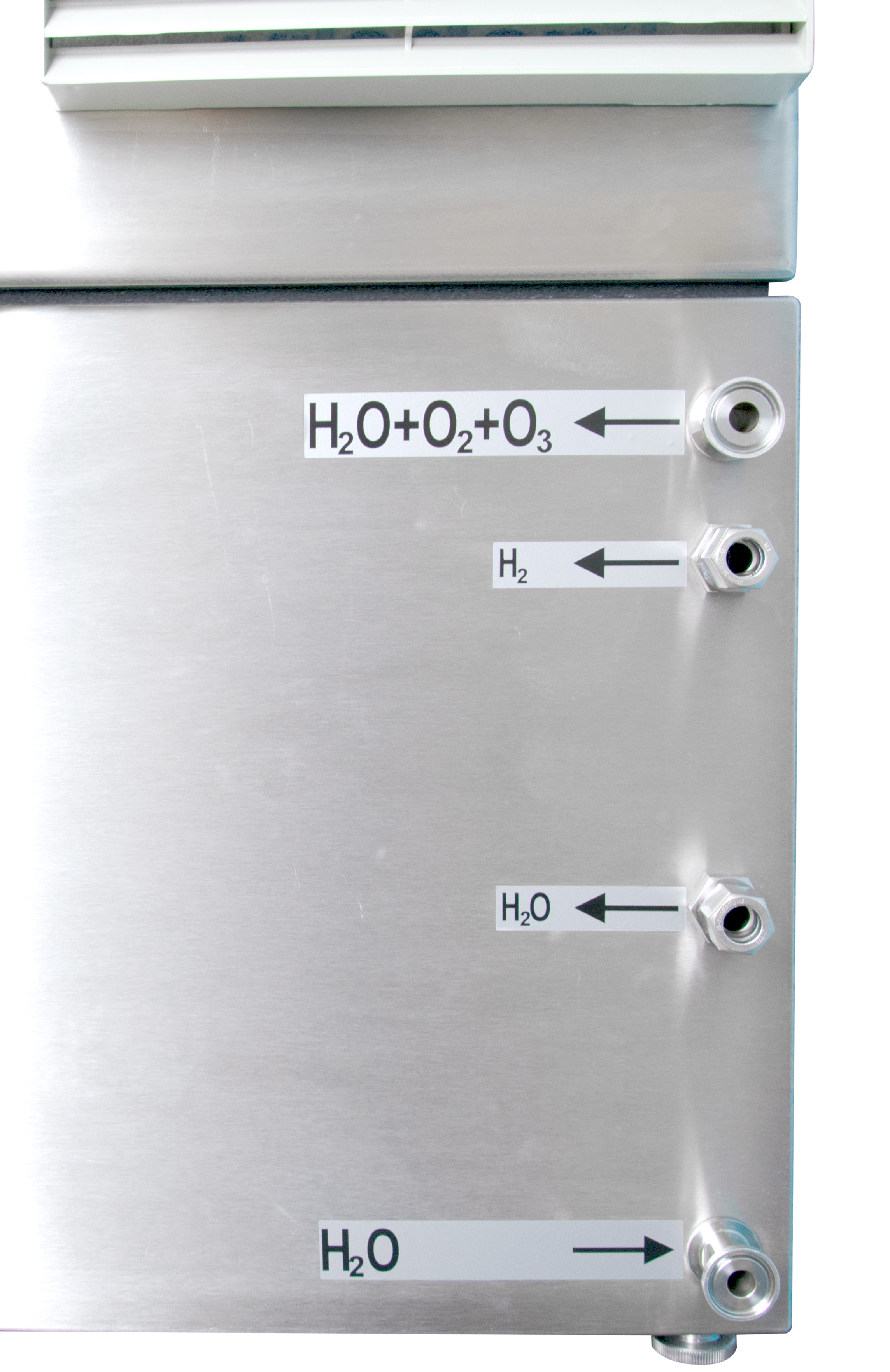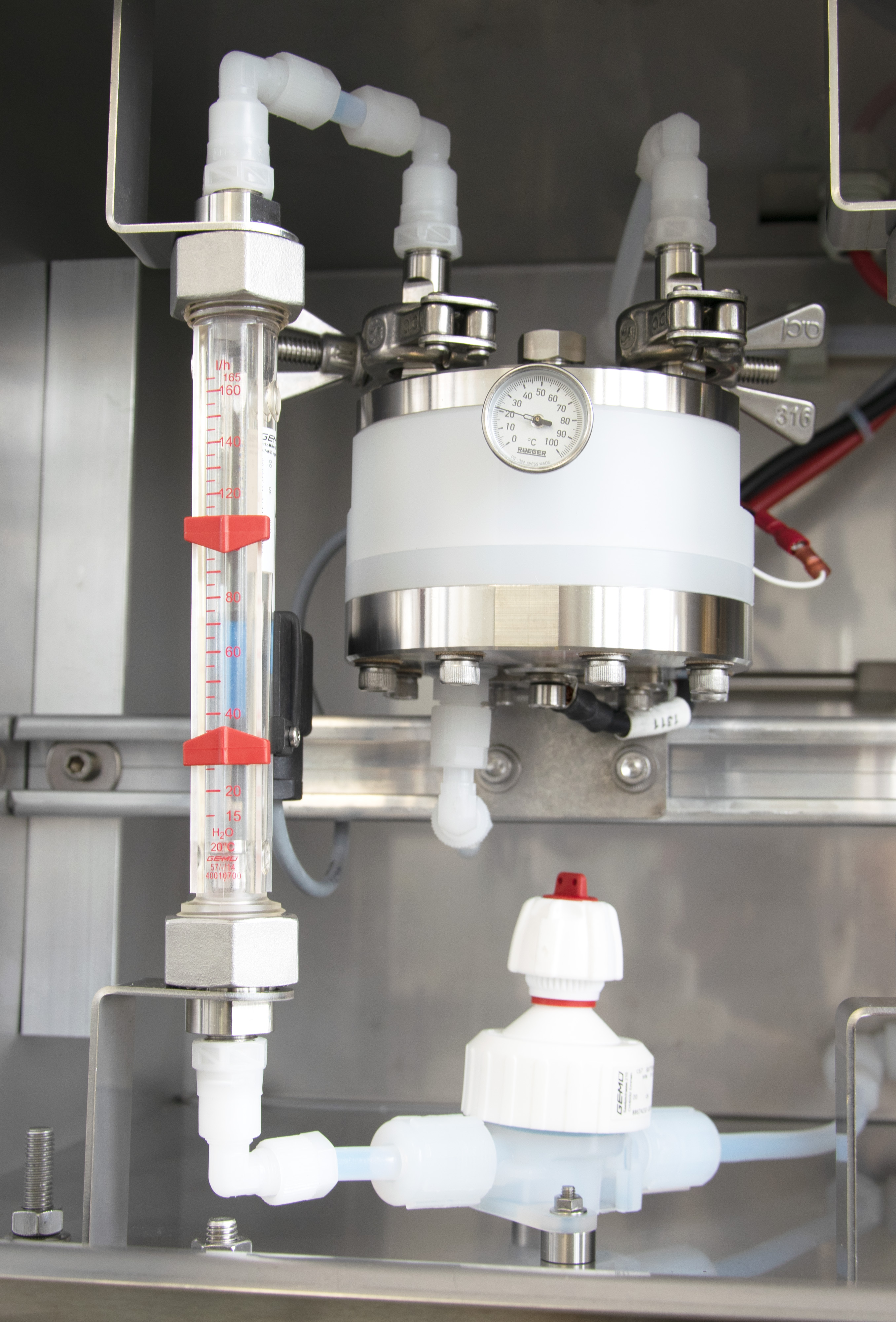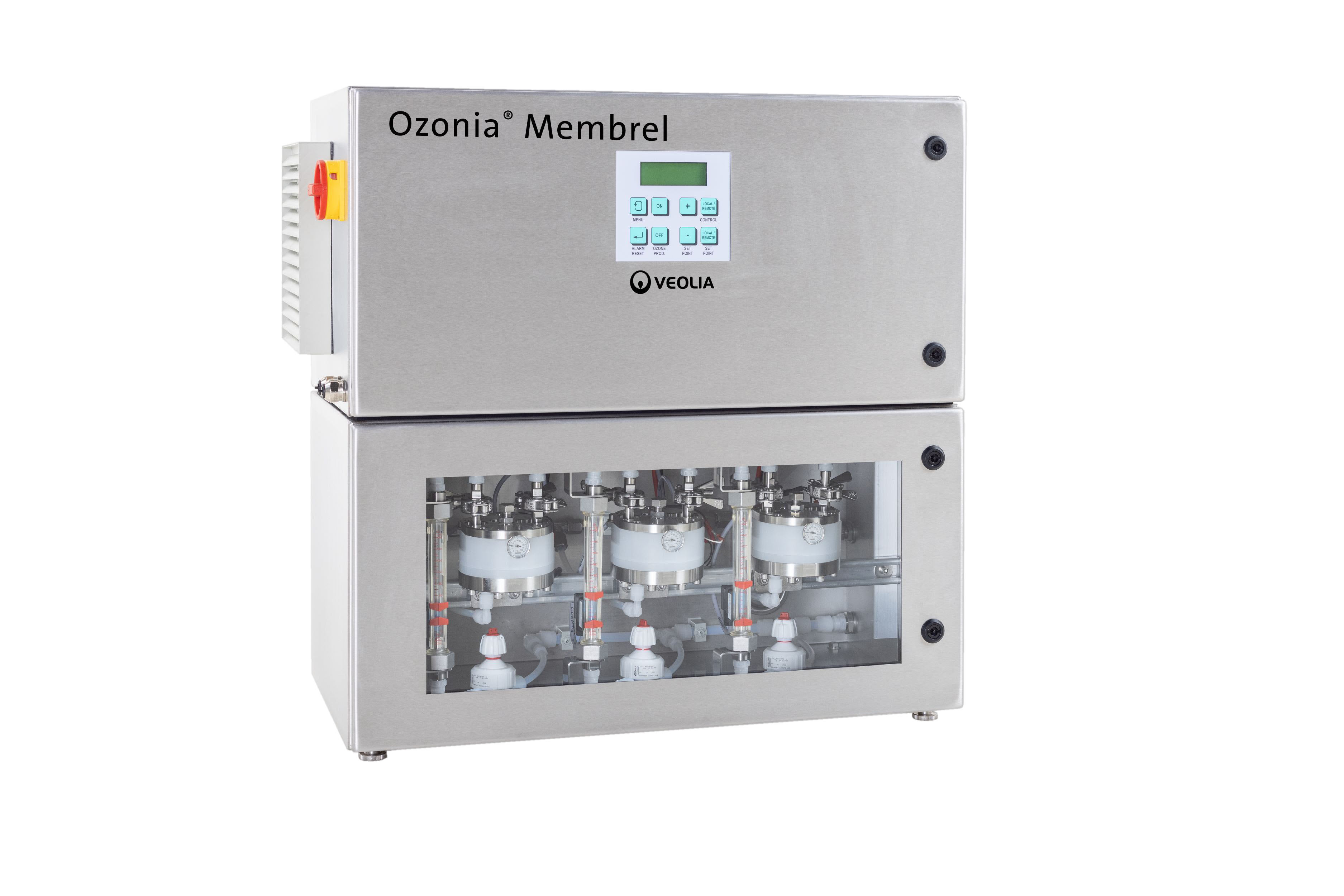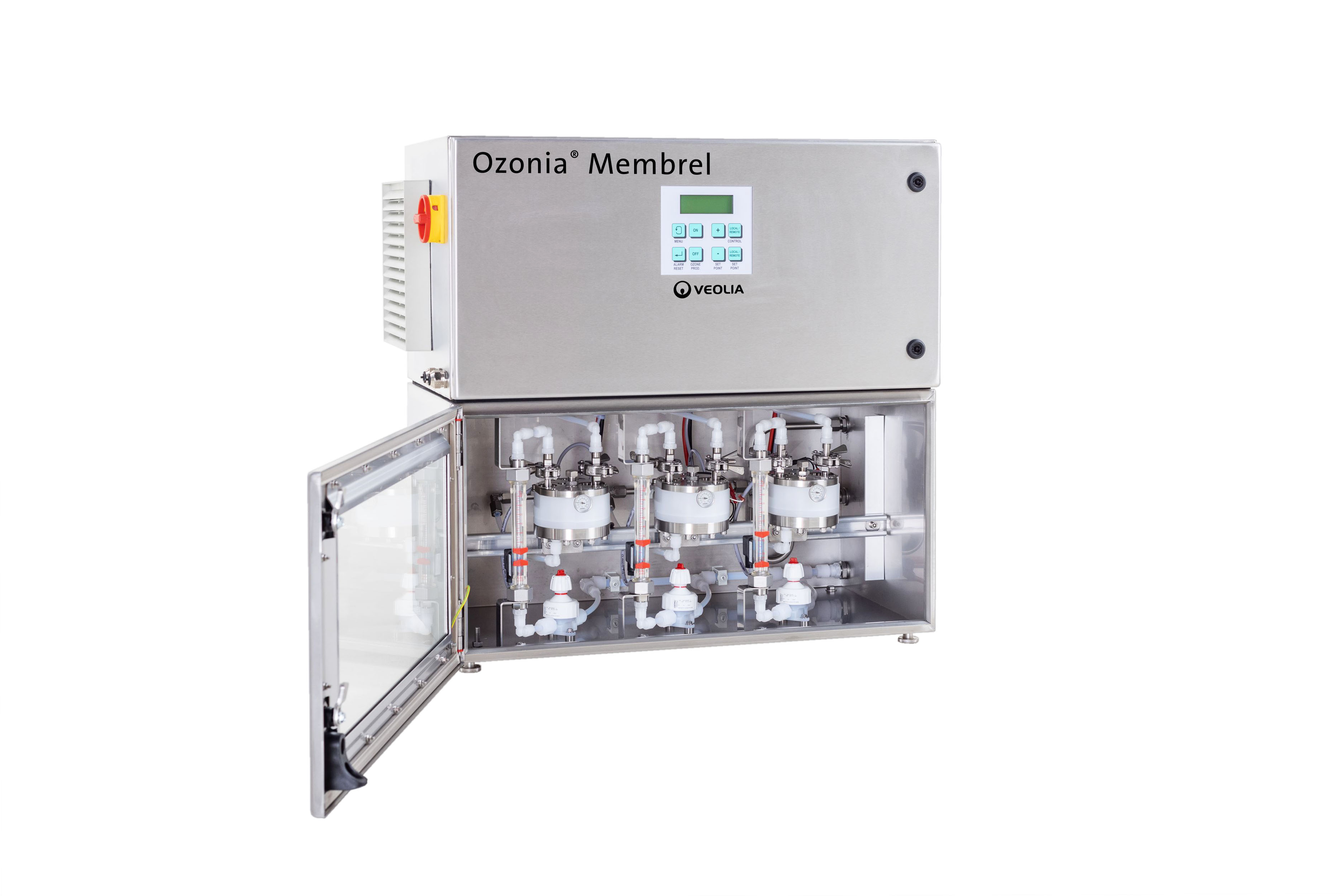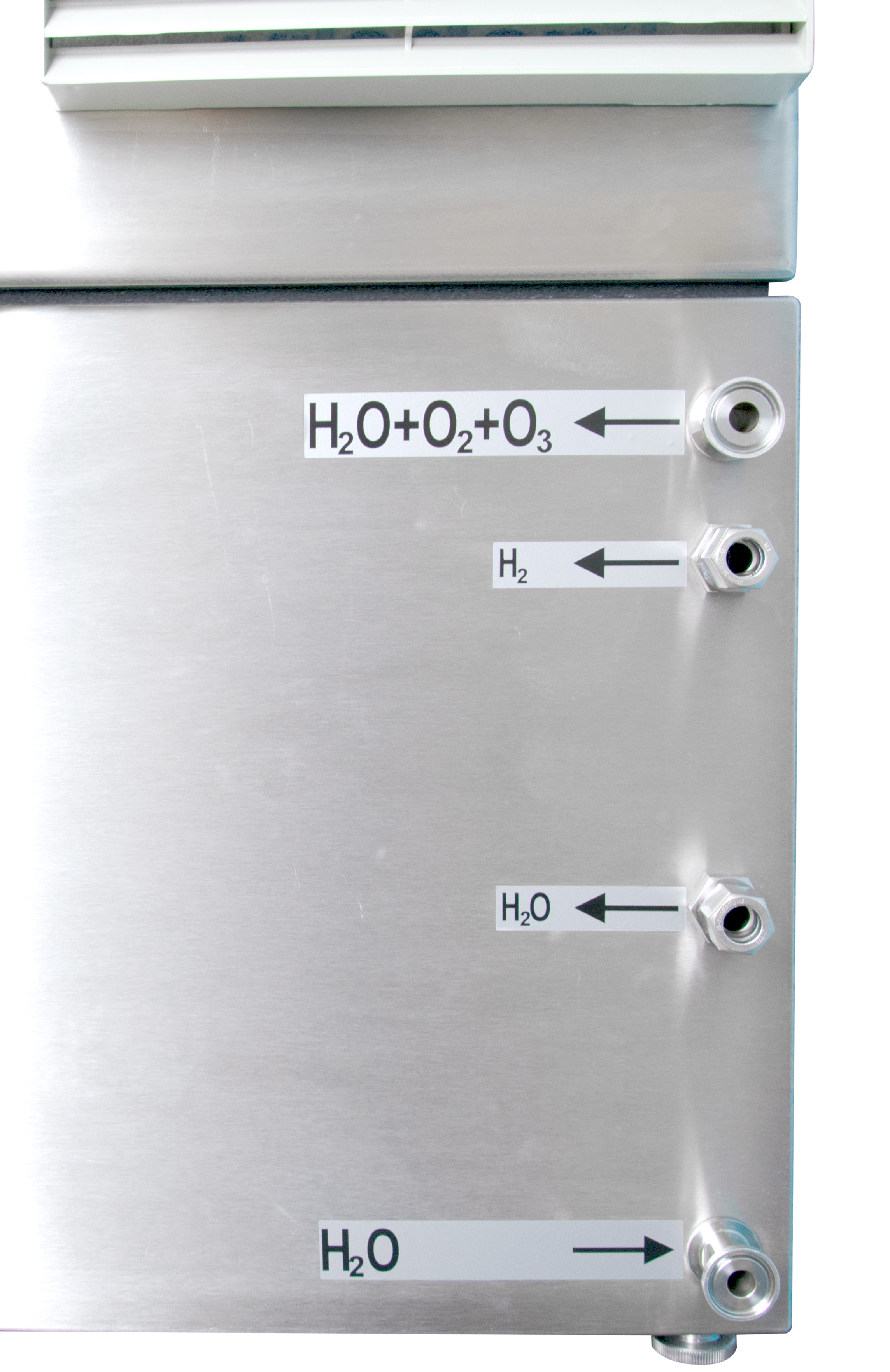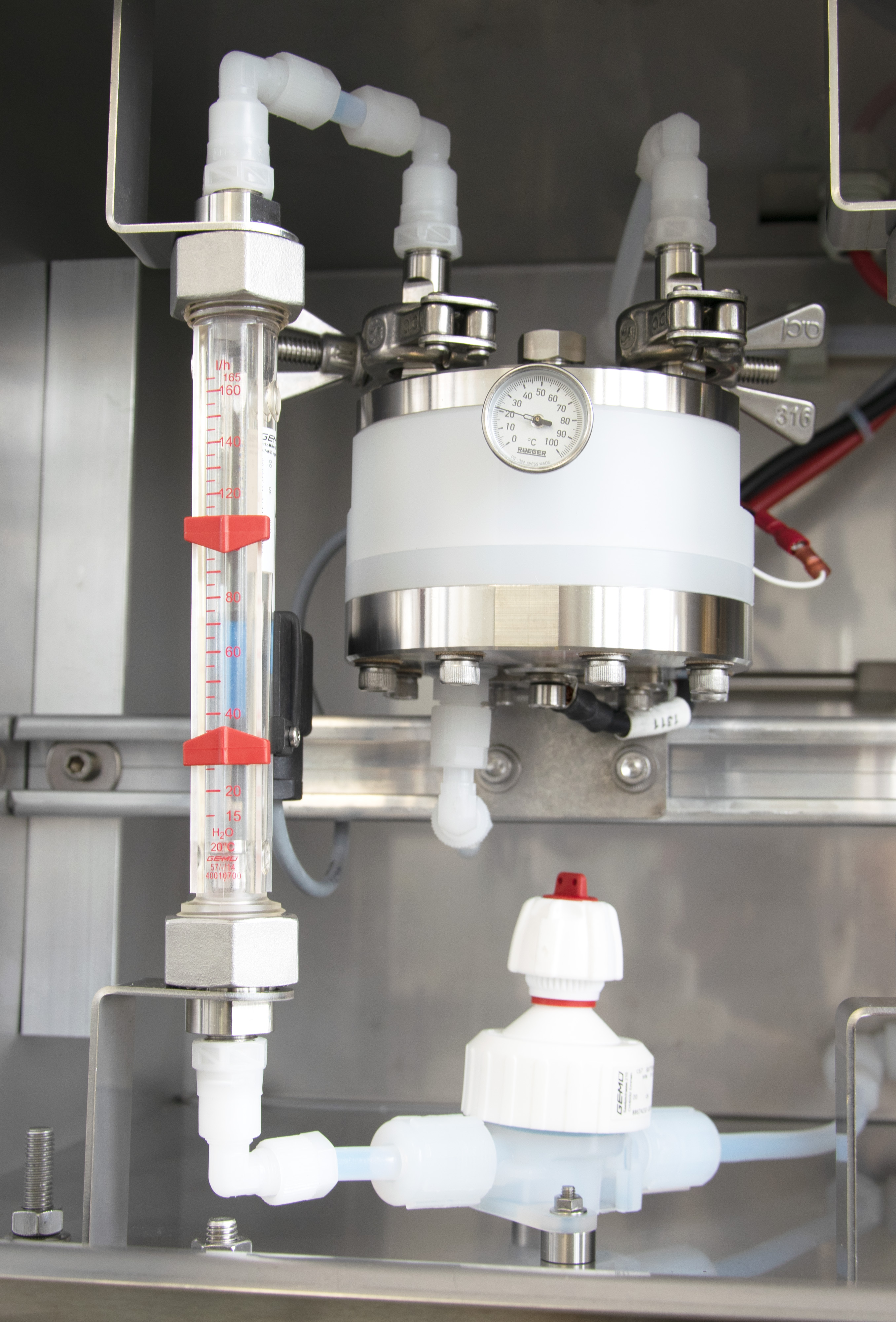 Available in 84 days, delivery time 2-3 days
Product information "Ozonia Membrel MkV-S-3 - Electrolytic ozone generator, ozone output 3x 3-4 g/h, system unit"
Ozonia* Membrel MkV ozone generation plant based on the catalytic water electrolysis process; suitable for sterilization and sanitization of ultrapure water in ring piping systems in the pharmaceutical and semiconductor industries
The plant consists of 1, 2 or 3 current-regulated electrolysis cells including electrode set (anode, cathode and solid electrolyte membrane) and an electric feeder.
Ozone production per cell: 3-4 g/h
Feed water flow per cell: nom. 100 l/h
Feed water conductance: < 20 μS/cm
Operating pressure: max. 6 bar
Electrical power per cell: 460 W/ 230 VAC, 50-60 Hz
Ozone power setting: 8-100%
Control functions (floating): System ON/OFF; control and set point LOCAL/REMOTE supply ON/OFF /collective alarm
Control function (4-20 mA): electrolysis current for ozone production
System plants MkV-S ready for operation and connection; consisting of:
Electrolysis cells made of PVDF / titanium / stainless steel (316L) internally piped incl. flow meter and control valve; with temperature and flow monitoring; installed in stainless steel housing IP54

Connections Feed water and ozone-strong water: TriClamp TC25 ID 10 mm n. DIN 32676-A

Connections hydrogen and waste water: SERTO for pipe 10 x 1 mm

Electrical supply unit with power supply, controller unit and emergency battery in IP 54 stainless steel housing, wired directly to electrolysis cell via connection cable
*Trademark of Veolia; may be registered in one or more countries.

Dimensions
| | |
| --- | --- |
| Height | 65 cm |
| Length | 87 cm |
| Width | 85 cm |
Weight
Other attributes
| | |
| --- | --- |
| Country of origin | CH |
| Customs tariff number | 85437090 |
Recommended plant components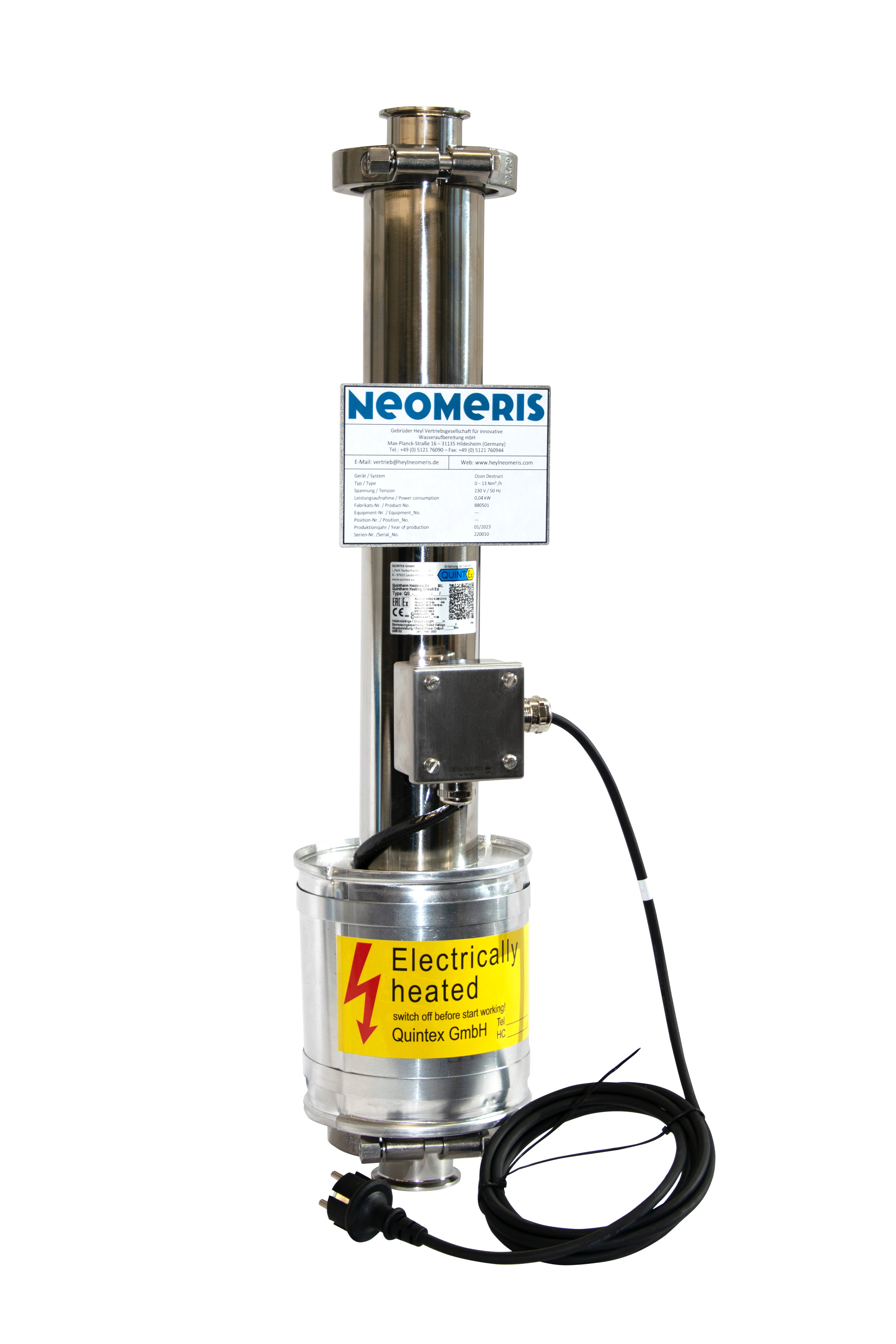 Ozone Destruct 6 - catalytic residual ozone destructor (0–6 Nm³/h)
Product number: 891400
Catalytic residual ozone destroyer Ozone Destruct for the reduction of excess ozone in the tank exhaust air line of ultrapure water systems. The unit consists of: Reactor housing stainless steel DN 80 (outer surface Ra 0.80 µm, weld seams ground) with TriClamp connections according to DIN 32676 for air inlet and exhaust air (other connections on request), flow internals and droplet separator, Carulite 200 catalyst granulate and electrical trace heating. Documentation: - Classification of pressure equipment according to DGRL2014/68/EU- Acceptance test certificates for metallic materials according to DIN EN 10204 3.1 - Restamping certificates - Seals certificate of conformity according to FDA (21 CFR § 177.2600), EC 1935/2004, USP Class VI - Assembly and operating instructions, incl safety data sheet Carulite 200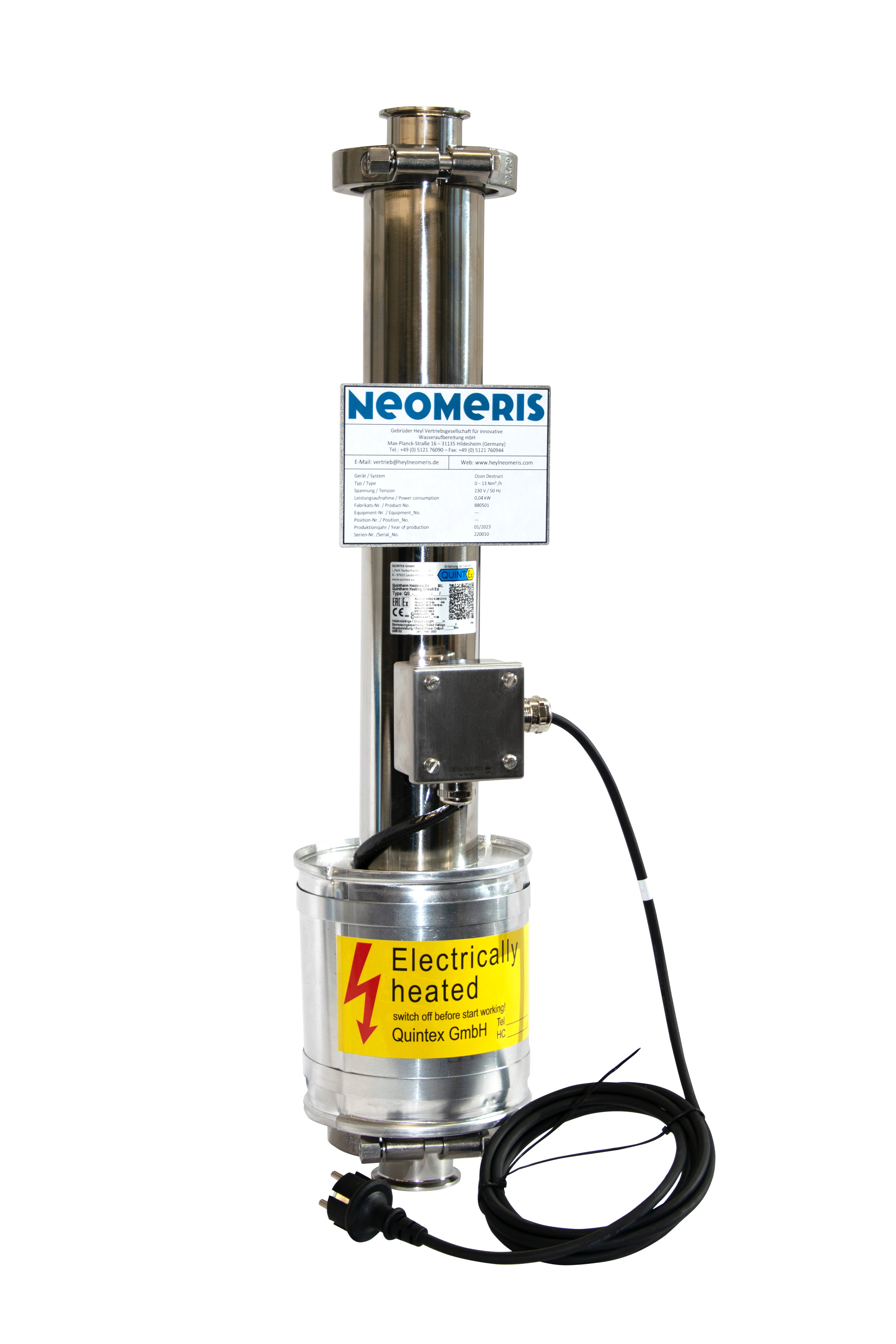 Ozone Destruct 13 - catalytic residual ozone destructor (0–13 Nm³/h)
Product number: 891401
Catalytic residual ozone destroyer Ozone Destruct for the reduction of excess ozone in the tank exhaust air line of ultrapure water systems. The unit consists of: Reactor housing stainless steel DN 80 (outer surface Ra 0.80 µm, weld seams ground) with TriClamp connections according to DIN 32676 for air inlet and exhaust air (other connections on request), flow internals and droplet separator, Carulite 200 catalyst granulate and electrical trace heating. Documentation: - Classification of pressure equipment according to DGRL2014/68/EU- Acceptance test certificates for metallic materials according to DIN EN 10204 3.1 - Restamping certificates - Seals certificate of conformity according to FDA (21 CFR § 177.2600), EC 1935/2004, USP Class VI - Assembly and operating instructions, incl safety data sheet Carulite 200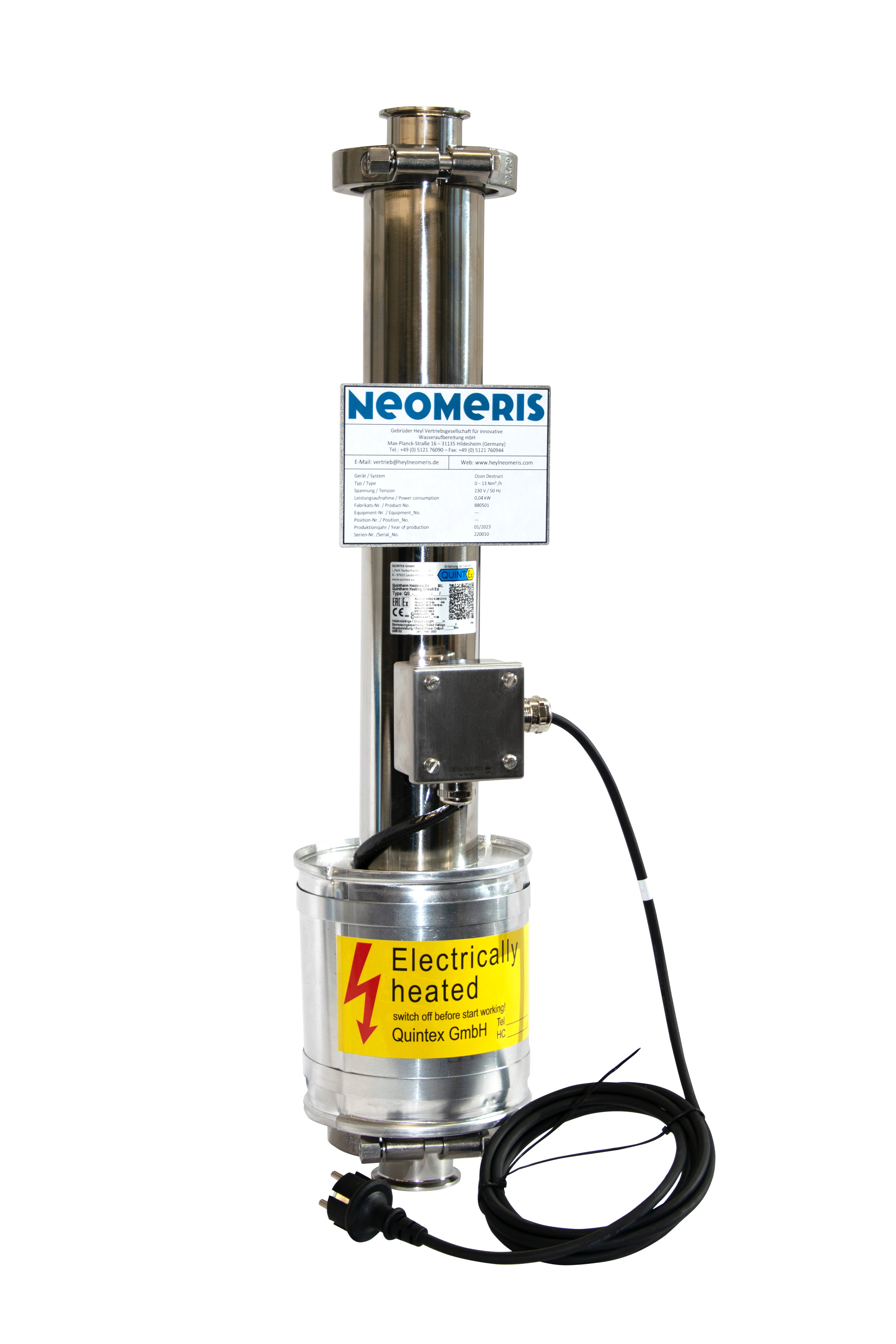 Ozone Destruct 20 - catalytic residual ozone destructor (0–20 Nm³/h)
Product number: 891402
Catalytic residual ozone destroyer Ozone Destruct for the reduction of excess ozone in the tank exhaust air line of ultrapure water systems. The unit consists of: Reactor housing stainless steel DN 80 (outer surface Ra 0.80 µm, weld seams ground) with TriClamp connections according to DIN 32676 for air inlet and exhaust air (other connections on request), flow internals and droplet separator, Carulite 200 catalyst granulate and electrical trace heating. Documentation: - Classification of pressure equipment according to DGRL2014/68/EU- Acceptance test certificates for metallic materials according to DIN EN 10204 3.1 - Restamping certificates - Seals certificate of conformity according to FDA (21 CFR § 177.2600), EC 1935/2004, USP Class VI - Assembly and operating instructions, incl safety data sheet Carulite 200