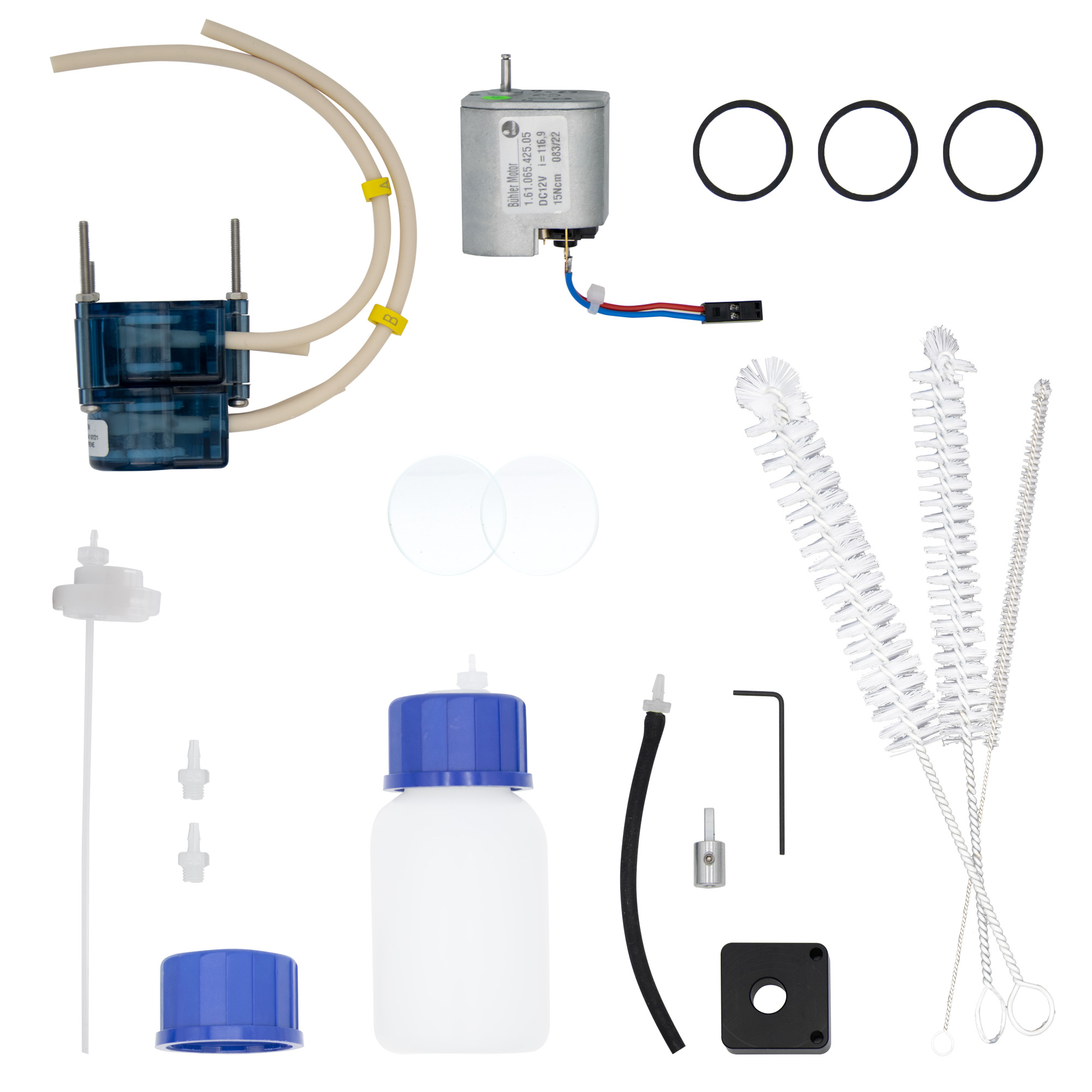 €1,012.40*
Please log in to receive your conditions.
Available in 28 days, delivery time 1-2 days
Our comment:
For units with serial number 253.061 and higher, an adjustment with silicate-free water is required after installation. For units with an older serial number, a software update must be carried out in addition to the adjustment mentioned above. Please refer to the operating instructions for this.
Product information "Service kit Professional for 2-year maintenance Testomat® 808 SiO2"
Service set contains:
2 x sight glasses 30 x 3
3 x flat gasket 24 x 2
1 x insert for screw cap & suction tube 100 ml fl.
1 x insert for screw cap & suction tube 500 ml fl.
1 x conversion kit double pump head
1 x gear motor
2 x hose connectors
1 x cleaning brush- set
Important:
After replacement, the pump must be recalibrated in Testomat® 808 SiO2. The adjustment is available from firmware version T808_83-003. Update the firmware of older versions before carrying out the adjustment! (serial numbers lower 253.061) It is important to use water with a silicate content of 0 ppm for this adjustment, otherwise the adjustment of the zero point is faulty and leads to incorrect measurement results. To ensure this, please use the silicate filter cartridge for the T808 SiO2, article 270344, specially developed for this process. (For additional information and notes on the equipment required for the software update, see the operating instructions as well as the "Replacing the pump head in Testomat808 SiO2" document)
Other attributes
| | |
| --- | --- |
| Country of origin | DE |
| Customs tariff number | 90278990 |
Required filter cartridge for pump head replacement
Silicate filter cartridge T808 SiO2 for changing the double pump head
Product number: 270344
Dear customers, please note that the calibration of the Testomat® 808 SiO2 can only be carried out with silicate-free water. Therefore, please use the silicate filter cartridge specially developed for this purpose when replacing the double pump head (art. no. 40395) and the associated pump adjustment.The cartridge filled with the special resin is inserted into the sampling line of the unit before the inlet and removed again after the adjustment. The pump replacement instructions describe the use of the silicate filter, storage conditions and shelf life. After the first use, the filter can be used up to 10 times within one year for balancing. After one year, the filter must be disposed of.