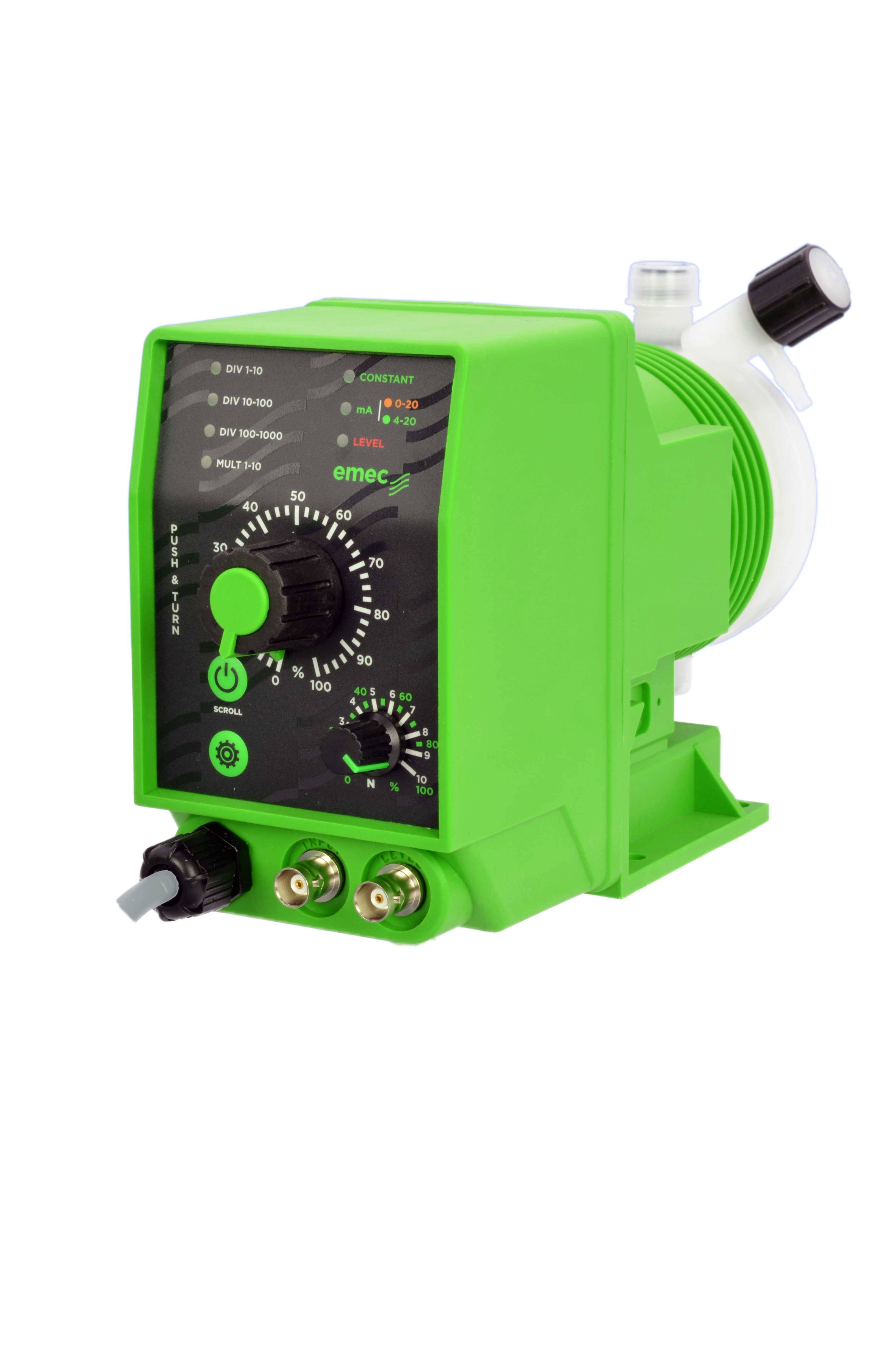 €416.00*
Please log in to receive your conditions.
Available in 7 days, delivery time 1-2 days
Product information "emec K-Plus dosing pump"
Solenoid-operated dosing pumps with horizontal mounting, cost-effective and particularly reliable. K pumps are designed for universal use and various industries.
The K series includes an MF version with multifunction software and an LPV version for viscous liquids. Also available with self-venting.
Features at a glance
With universal input for contact pulse or 0/4+20 mA
Stroke frequency proportional to input signal (0+180 imp/min)
Universal input programmable as:
- Pulse divider 1/10, 10/100, 100/1000
- pulse multiplier 1*10
and then by means of rotary knob, infinitely adjustable
Stroke length adjustment by means of rotary knob, stepless from 0...100%
"LEVEL" connection for empty level switch
"ALARM" relay output for empty signal (option)
Operating mode:
Constant
Proportional via pulse divider
Inputs:
Level control (with pre-alarm)
Digital signal
Voltage signal
Output:
Hydraulic parts:
- PVDF
- PP
- stainless steel (AISI 316)
- Acrylic glass (PMMA)
- Check valves with double ball
- O-rings made of FKM B, EPDM, nitrile, PTFE
Diaphragm:
PTFE diaphragm
Accessories:
emec Viton suction lance with 40cm immersion length (with BNC connection)

emec Viton suction lance with 122cm immersion length (with BNC connection)

emec EPDM suction lance with 40cm immersion length (with BNC connection)

emec EPDM suction lance with 122cm immersion length (with BNC connection)
Technical specifications
DOSING PUMP TYPE
MODEL
DOSING RATE
HUBVOLUME
DOSING HEAD
HOSE
VALVE
1801
1 l/h - 18 bar
0.1
LA
4 x 6
3/8"
1503
3 l/h - 15 bar
0.28
LA
4 x 6
3/8"
103,5
3,5 l/h - 10 bar
0.32
LA
4 x 6
3/8"
100,5
0,5 l/h - 10 bar
0.05
IA
4 x 6
3/8"
085,5
5,5 l/h - 8 bar
0.51
LA
4 x 6
3/8"
057,5
7,5 l/h - 5 bar
0.69
LA
4 x 6
3/8"
0213
13 l/h - 2 bar
1.2
MA
4 x 6
3/8"
HYDRAULIC COMPONENTS
DOSING HEAD
O-RINGS
VALVES
MEMBRANE
HOSES
VISCOSITY
CORPUS
BULLETS
pressure side
suction side
max. CPS
K
PVDF
Viton
PVDF
Ceramic
PTFE
PVDF
PVC
100
P
PVDF
EPDM
PVDF
Ceramic
PTFE
PVDF
PVC
100
Y
PVDF
Nitrile
PVDF
Ceramic
PTFE
PVDF
PVC
100
V
PP
Viton
PP
Ceramic
PTFE
PE
PVC
100
D
PP
EPDM
PP
Ceramic
PTFE
PE
PVC
100
W
PP
Nitrile
PP
Ceramic
PTFE
PE
PVC
100
J
PVDF
Viton+PTFE
PVDF
Ceramic
PTFE
PVDF
PVC
100
S
PVDF
Silicone
PVDF
Ceramic
PTFE
PVDF
PVC
100
A
PMMA
Viton
Polypropylene
Ceramic
PTFE
PE
PVC
100
$
PMMA
Viton
Polypropylene
SS
PTFE
N/A
N/A
8000
Z
SS 316*
Viton
SS
SS
PTFE
N/A
N/A
100
* SS 316 corresponds to stainless steel Mat. 1.4436
POWER SUPPLY
00
230 VAC safety plug
0S
230 VAC plug Australia
01
230 VAC without plug
03
115 VAC plug US
04
24 VAC without plug
05
12 VDC**
07
24 VDC
** not suitable for all models