NeoTec Select Sensor Conductivity modular measuring package with Modbus signal output for low measuring range
Product number: 891017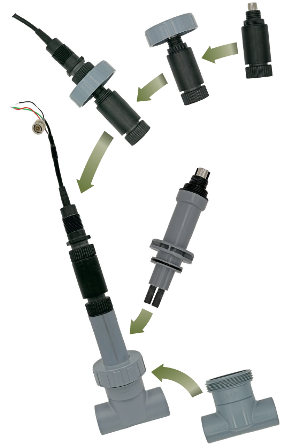 €780.50*
Please log in to receive your conditions.
Available in 30 days, delivery time 1-2 days
Product information "NeoTec Select Sensor Conductivity modular measuring package with Modbus signal output for low measuring range"
The conductivity sensor consists of a 3 meter connection cable, a Modbus head transmitter, and the conductivity sensor. Due to the design of the sensor assembly, only the sensor needs to be replaced. All other components of this system can be used continuously. For an optimal process integration the NeoTec sensor is delivered with a fitting T-piece.
Advantages:
Preconfigured for NeoTecMaster®
Modular design
Industry standard
conserves resources
Technical data:
Cell constant: k=0.1 +/-10%.
Measuring range: 0.1 to 500 μS/cm
Pt1000
Material: CPVC
Max. Temperature / Pressure: 60°C (140 deg F)/ 6.5bar (100 psig)
Modbus module 24 VDC
Connection cable 3m, cable ends tinned
Flow cell 1.5 "with 1" NPT inner thread